Alaska King Crab Casserole
by Crab-O-Licious.com
(Pacific Northwest)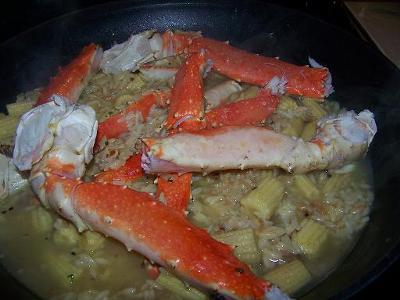 Alaska King Crab Casserole
This Alaska King Crab Casserole is another one of our absolute favorite crab meat dishes. This crab recipe is fast and easy and can be altered to your preferences.

What we love about this crab leg recipe is that when after simmering in the juices and herbs that come with the rice, you don't need warmed butter or anything else to enhance the crab legs. Also, the saltiness of the king crab legs are omitted cooking them this way!




Ingredients:








1 Box of Rice A Roni-Rice Pilaf


4-King Crab Legs-cut at the joints


1 Can-Baby Corn (Green String Beans work well, too)


1-Tablespoon Minced Garlic


Directions:
Cook the Rice A Roni Rice Pilaf as directed. While sauteing the rice, add the garlic.
After adding the 2 cups of water, add the baby corn (or other veggie as you prefer) and top with the King Crab Legs. Let simmer as directed.
Serve hot. This Alaska King Crab Casserole serves 2-4, only takes 20-30 minutes to cook. You can top the dish off with fresh, diced onions and soy sauce, too, for more flavor. It all goes well with the King Crab!
You can double your pleasure and double this recipe for double the appetites, too, if you need. Just use a dutch oven instead of a fry pan. You can also use this with Snow Crab or Dungeness Crab and get the same Crab-O-Licious goodness!
Hope you enjoy this Alaska King Crab Casserole!
Go back to
Crab Meat Recipes
and find some more great recipes.
Check out some of our
Crab Salad Recipes
that will go well with these!
Check out
Crab Homepage
and find more useful information about crab! "Catch 'em! Clean 'em! Cook 'em! Eat 'em!"