Best Crab Cakes Recipes
Lollie! Lollie! Lollie! Get the best crab cakes recipes here! Crab cakes are as American as homemade apple pie! Crab-O-Licious.com has the very best all right here for you to try, share and enjoy.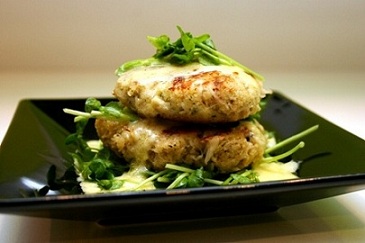 How do we know these are the best crab cakes? We don't! I'm sure you can ask a hundred crab lovers from all walks of life and get a hundred different answers and a hundred different crab cake recipes!
Some of these delicious crab cakes are famously known, not only in the states, but also shared and loved around the world. These are also crab cakes recipes that we have tried and liked and would like to share them with you.
To make these best crab cakes recipes, you can use any kind of crab meat, fresh Dungeness Crab or Blue Crab are best. You can use canned crab meat, too. Whatever you have on hand will be fine with any of these great recipes.

If this is your first time making crab cakes yourself at home and not sure how to go about it, click in to learn How to Make Crab Cakes, here. We will be glad to show you how!
The best crab cakes recipes we have found from shore to shore...

Tips For Forming Crab Cakes:
You can use a lid from a peanut butter jar to make perfect round crab cakes. Just spray the lid to let the mixture release easily. Or, you can use an ice cream scoop to make crab cakes! Just scoop into mixture and put onto cooking area and press gently on top to form.
Always chill your crab cake mixture before baking or frying your cakes.
This helps blend the flavors to meld and helps to hold the mixture together making them easier to handle and mold to desired shape. It also plays a big role in the cooking process. It allows the outside of the crab cakes to get crispy, thus keeping the moisture inside the crab cake.
Subscribe to our Crab Clique newsletter where we will share more crab cakes recipes and secrets that are not on the site.
Go to Crab-O-Licious.com Homepage.
Check out more delicious Crab Meat Recipes, here!
Go back up to the top of Best Crab Cakes Recipes or leave us a comment below...share your favorite crab cake recipe....