Crab Blog
Welcome to our Crab Blog featuring all things crab. This is where you can be kept up-to-date as we add new pages to Crab-O-Licious.com after they are created and as we make modified changes on the site with new recipe's and tons of more information about these crazy crustaceans! And, here is where you will know when we have updated any pages or added anything shiney new for our readers, so you will definitely want to subscribe to stay in touch!
To subscribe to the Crab Blog, (no e-mail necessary), all you have to do is right-click on the orange "RSS" button, (see bottom buttons to the left), and then paste the URL into your RSS reader. Or you can click on the "My Yahoo!" button, or "My MSN" button, or the "Add To Google" button if you keep a personalized home page on any of these site's.
If you are not sure what "Blogging" or "RSS Feeds" are all about, click on the small lettering below the orange button over below the nav bar on the left hand column that says, "What is a RSS Feed?" This will give you step by step details on how to do it. If you already know, then go ahead and right click the orange button! (You knew that, didn't you?)
Once you get the hang of it, you will love the convenience of using it.
Have fun and "Thanks!" for subscribing to our blog!
Crab Clam and Corn Chowder Recipe Will Warm You From the Inside Out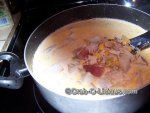 Yes, this crab, clam, and corn chowder is sure to warm you from the inside out! It's creamy, rich and oh so hearty...
Continue reading "Crab Clam and Corn Chowder Recipe Will Warm You From the Inside Out"
Drop us a line and say, "Hello!" ....

Go back up to the top of this Crab Blog page
Go to Crab Home
Got questions? We have answers! Check out Crab Chat