Soft Shell Crab Recipes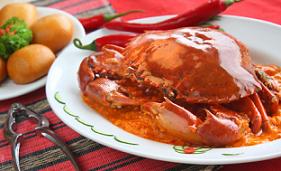 Looking for new soft shell crab recipes? Soft shell crab is becoming more and more popular these days, not just on the East Coast, but all over the US. Over on the east coast soft shells are a "norm" at the dinner table, while the rest of the regions consider them a delicacy and we'll order them up at any place we can find them!
A great thing about soft blue crabs is that you can eat them whole! Absolutely no waste as you eat the shell and all, and, they are very delicious!

Here's a few more great soft shell recipes for you to try if you can get your hands on them! We hope you enjoy these soft shell crab recipes...
Here we have:
Saute' Soft Shell Crab Recipe with a Spicy Peanut Sauce
Soft Shell Crab Club Sandwich
Grilled Soft Shell Crab Recipes
Fried Soft Shell Crab, and....
Soft Shell Crab Recipes Saute' in Garlic Butter 
Try our
Blue Crab poke recipe, here.
It will take you to another page on our site.
Saute' Soft Shell Crab
This is a basic soft shell recipe...
Ingredients:
12-16 Live Soft Shell Crab
1/2 Cup-Flour (All Purpose)
1/4 Cup-Olive Oil
Salt and Pepper
After you have cleaned the crab, place the them on paper towel to drain any excess water.
Place crab in large mixing bowl with the flour, pat them gently to rid of excess flour.
Heat olive oil in dutch oven sized pan or large enough to hold the crabs in a single layer in pan.
Gently place the crabs, top shell down, into the pan.
Move pan back and forth (like you see chef's do on tv!) slowly and carefully, to prevent the crab from sticking to the pan.
Cook the crab on medium high for about 3 minutes on each side. Keep lifting crab up to check how they are browning.
Carefully transfer the crabs to a plate with paper towels and pat them gently with paper towels to eliminate excess oil.
Season with salt and pepper and serve. Serves 4-6. Try the Spicey Peanut Sauce below with soft shell crab recipes...

Spicy Peanut Sauce
Ingredients:
Juice of 2-Medium Sized-Limes
Few Dashes-Tabasco
1/2 Cup-Dry White Wine
1 Tablespoon-Bottled Satay-Peanut Sauce
2 Tablespoons-Fresh Cilantro-Chopped
Add lime juice and wine to pan used while sauting the soft shell crabs; on medium high heat.
Stir in peanut sauce, scrapping up browned bits from pan and mixing well.
Remove from heat.
Adjust taste with tabasco and salt and pepper to taste.
Spoon over the soft shell crabs, sprinkle with the cilantro and serve.

Soft Shell Crab Club Sandwich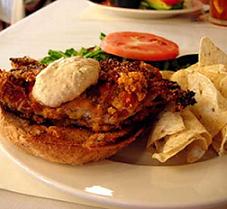 Ingredients:
8-Stripes of Thick-Sliced Bacon-Fried Crispy; set aside.
1/4 Cup-Flour (All Purpose)
1/2 Cup-Cornmeal
1 Teaspoon-Chesapeake Bay or Old Bay Seasoning
2 Large-Eggs-Beaten
2 Tablespoons-Water
4-Soft Shell Crab
Olive Oil, Peanut or Canola Oil
4-Whole Wheat Hamburger Buns (Or other bread you prefer.)
Mix the flour, cornmeal and seasoning in a wide dish, like a pie pan.
Mix water and eggs together in separate dish that can be used for placing the crab in.
Heat oil in deep fry pan on medium high.
Dip each crab into egg mixture, then into flour and cornmeal mixture, then into fry pan, carefully.
Fry each crab till golden brown on each side for approximately 3 minutes.
Remove the soft shell crab onto paper towels to eliminate excess oil.
Make the crab club sandwiches. Spread mayo on buns as preferred, add the bacon, tomatoes, onions and lettuce on top of the crab. Enjoy!

Grilled Soft Shell Crab Recipes
With Mushrooms and Corn
You can take these soft shell crab recipes outdoors for a great summertime flavor! This is made with mushrooms and corn. You can use whatever vegetables you prefer.
Ingredients:
1 Tablespoon-Minced Garlic
1/2 Teaspoon-Sea Salt and Ground Black Pepper
1/4 Cup-Balsamic Vinegar
1 Shallot-Minced
3 Tablespoons-Fresh Parsley
1 Teaspoon-Fresh Thyme
1 Cup-Olive Oil
8 Cleaned-Soft Shell Crabs
1/2 Pound-Fresh Mushrooms
4 Ears-Corn-Shucked
4 Skewers for grilling.
Mix garlic, salt and pepper, vinegar, shallot, parsley, thyme, and oil together in small mixing bowl to make the vinaigrette. Mix well.
Brush the soft shells with 4 tablespoons of the mixture and set aside the remaining.
Thread mushrooms on the skewers and lightly brush them and the corn with vinaigrette.
Heat the grill. When it's hot and ready, brush the grill with some of the remaining vinaigrette.
Place corn and mushrooms on grill and grill to slightly browned on all sides.
Transfer grilled vegetables to let cool.
Cut the kernels of the cobs and add them to the vinaigrette.
Slice the mushrooms and add them to the vinaigrette. Season with salt and pepper to taste.
Brush the grill again. Season the soft shell crabs with salt and pepper and place on grill.
Cook through for 2-4 minutes or slightly browned on each side.
Transfer to a platter, spoon the mushrooms and corn mixture over the crab and serve.
Makes 4 servings.


Fried Soft Shell Crab Recipes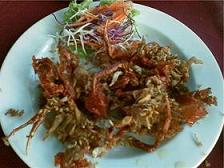 Ingredients:
18 Soft Shell Crab
1 Teaspoon-Salt
1/2 Teaspoon-Black Pepper
1/4 Teaspoon each-Garlic and Onion Powder
2 Tablespoons-Lemon Juice
1 Tablespoon-Soy Sauce
1 Cup-Flour
3-Large Eggs-beaten
2 Cups-Bread Crumbs
Cooking Oil or Olive Oil-for frying
Clean the soft shell crabs, but don't remove top shell. Rinse well in cool water.
Place the crabs on a cookie sheet and season with the salt, pepper, lemon juice, soy sauce, garlic power and onion powder. Chill for at least two hours.
Preheat oven to 450 degrees.
Place flour in a medium sized bowl, eggs in another, and bread crumbs in the last.
Roll each crab in the flour, dip in the eggs, and then coat with the bread crumbs.
Heat a large, deep skillet with about one inch of the cooking oil. Saute each crab on one side for 4-5 minutes, turn and continue until each crab is crispy.
Place browned crabs in oven for 8 minutes until hot all the way through and crispy.

Soft Shell Crab Saute In Garlic Butter

Ingredients:

8 Soft Shell Crabs-

cleaned

1 Cup-Milk
1/2 Cup-Flour (all purpose)
Salt
Pepper
2 Tablespoons-Butter
2 Tablespoons-Olive Oil
2 -Large Garlic Cloves-quartered
Lemon Wedges
Soak the crabs in a large bowl in the milk for about 3 hours.
Dredge the crabs in flour. Heat 1 tablespoons each of the butter and the oil with the garlic in a large, heavy skillet over medium heat until it sizzles. Fry 4 of the crabs until golden brown for about 4 minutes on each side. Repeat with the remaining butter, oil and crabs.
Serve with lemon wedges. Serves 4.
Share a Soft Shell Crab Recipe With Us...
Check out more crab meat recipes, here!
Learn more about crab. Go to Crab-O-Licious.com Homepage.
Go back up to the top of Soft Shell Crab Recipes