Crab Meat Recipes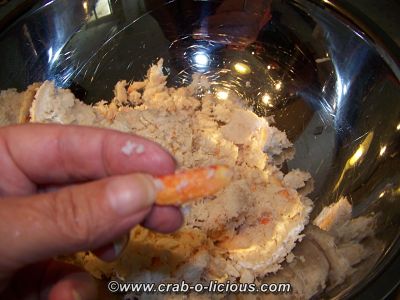 Yummy Crab Meat!
Here's a smorgasbord of crab meat recipes for those of you who go crabbing and find yourself with oodles of crab meat and you're tired of the same old recipe.
We all know..."There is absolutely nothing better than getting elbow deep in fresh, shucked crab!"-Cynthia Nims-Author of "Crab"
That is so true, however, when you have a freezer full of crab it's always nice to try something new. One of the things we love about crab is that is so versatile. You can use it in so many different culinary ways...Thai foods, in Mexican dishes, Southern, Cajun-Style, or what ever! It's neither just an American or Chinese delicacy. Crabs belong to the world and all our recipes can be enjoyed by all cultures!
Enjoy these crab recipes, here, and there are plenty more below the form we have for those who would like to share a recipe with us, oh ya, and the world! Thank you!

But wait! There's more! More Crab Meat Recipes....
Crab-o-Licious.com is always looking for new great recipes, made with crab, of course. We would love to try your favorites, too.
If you have one and would like to share it with others and add a photo of your favorite crab dish recipe, please do! But if you don't have a crab recipe and you are looking for one, that's ok, too, just scroll down below the form. We have plenty more great dinner ideas made with crab meat below. Share your favorite recipe with us in the comments below....Thank You!

Share YOUR Favorite Crab Meat Recipes
Do you have a favorite crab meat recipe you would like to share? We at Crab-O-Licious.com would love to try them, so would thousands of other visitors!
You can leave your name and address if you would like or remain anonymous, it's up to you. Others can comment and give kudos on your recipes as well.
We thank you for sharing!

What Other Visitors Have Said
Click below to see contributions from other visitors to this page...

Crab-O-Licious.com will be adding crab recipes to the menu on a regular basis, so feel free to bookmark this page and share it with others. Thank you!

Try our Crab Cakes Recipes, here!
Jump back up to the top of Crab Meat Recipes
Go to Crab Homepage