How to Cook Crab Legs
This is about how to cook crab legs. If you just bought some Alaskan King Crab, or Alaskan Snow Crabs, or Dungeness Crab and you don't know how to go about cooking them up, we'll get you going on that. Now, if you just caught Dungeness Crab or Blue Crabs or Red Rock Crab and you're wondering what to do, first, you will need to visit our How To Boil Crab page and get them taken care of. Then, you can come back here and cook up some crab legs!
If you have already boiled your crab (if you bought them at the store, they have already been boiled, unless it is obvious they are "live crabs") this is what you need to do to have cooked, steamed crab legs for dinner tonight.
But, one more question remains...Are the crabs cleaned? If not, do visit our cleaning crab page and we'll show you how to go about that. 9 out 10 times, if you bought Dungeness Crab at the store, they are whole crabs, been boiled, but not cleaned. So, please, do clean them and come back!
For those of you who have boiled and cleaned crab and sitting here with just the crab legs ready to cook, here is how to cook crab legs...
Items You Will Need to Cook Crab Legs: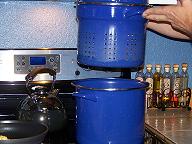 Here's a few items you may want to have handy.
Salt or Sea Salt-We prefer Morton's Sea Salt-coarse.
Crab Boil (Optional)- We use Zatarain's Shrimp and Crab Boil. Use it sparingly, though, as it can over-take the crab flavor if you're just steaming a few crab legs. And you can use your favorite herbs and spices; be creative with the flavors!
A Pair of Tongs
Your preferred crab legs (Snow Crab Legs, King Crab Legs, Dungeness Crab Legs, or even

Red Rock Crab

)
You can check out the Crab-O-Licious Store to find products that we use that will make this easier if you don't have the proper cooking equipment.
Got everything? Great! Now just follow these 3 simple steps for cooking crab legs...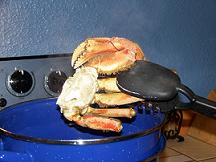 Step One, take your crab steamer and fill with water just barely over and into the area with the holes. This allows some of the water to steam away and still have plenty left over to cook crab legs if they are frozen, and yet, not enough water to boil the crab legs.

Step Two, add, approximately, 1/4 cup of the Sea Salt to every gallon of water you are using and the crab boil according to their directions as well, (remember not to go over board with the crab boil). You can add your favorite herbs and spices in the water, too. Cover with a lid and wait for the water to boil.

Step Three, once the water is boiling, you place the crab legs into the steamer. Cook the crab through, steaming them for 15-20 minutes, till they are good and hot, if the crab legs have been frozen, or steam them 10-12 minutes if the crab legs are already thawed or are fresh.
While eating a portion (half) of the crab legs, it's okay to keep the other portions of crab steaming on the stove on simmer. This will keep them hot until you are ready for them. You can't over cook crab legs in a steamer. They are basically staying warm for you.
Now you know how to cook crab legs. If you're still uncertain about something, do jump down and ask a question about cooking crab legs, here or in our new comments section below!
If you got it all down, great! You are ready for a "Crab-O-Licious" dinner. Try one of our delicious crab dip recipes, here, to dip those crab legs into. When you eat a lot of crab as we do, it's nice to have alternatives to melted butter for dipping the crab legs in. Enjoy the heck out of those crab legs!
What Other Visitors Have Said
Click below to see contributions from other visitors to this page...

Go back to the top of How To Cook Crab Legs
Now you know how to cook crab legs, go to Crab-O-Licious.com Homepage and find some tastey crab recipes!
Try one of our crab meat recipes if you find you have a lot of crab legs left over. You can pick out the meat and try a new crab recipe!