Crab Salad Recipes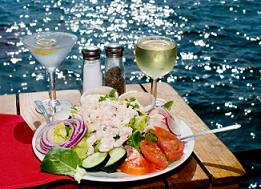 It's always nice to have a variety of crab salad recipes on hand. A good crab salad can appeal to the eyes and to the taste! These salads are family fare since they are packed with the foods everyone needs every day in their diets.
These cold crab salads can be made as an appetizer, a light lunch or as a main course. These crab salads are a few of our Crab-O-Licious favorites! We hope that you enjoy them, too. Share them with your friends and family, and scroll down and share a favorite recipe with us and the world!
This Crab Louis Recipe has been a favorite cold crab recipe since the early 1900's. Included is the recipe for the Crab Louis Dressing. This salad recipe is great for a light lunch or as the main course.
Try this molded crab salad. Be creative and use fun and festive molds for those special occasions. This crab salad makes a great side dish.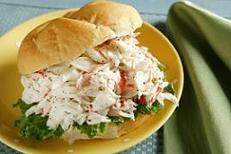 Here is a "Crab-O-Licious" imitation crab salad recipe. Made with imitation crab meat, this salad is great for a side dish. You can omit the pasta in this dish and make a really great crab salad sandwich!
This Cold Crab Salad is an Asian-style salad with sesame flavor and made with rice sticks. If you love Asian food and have a wok handy, you may bookmark this as one!
Here is another molded crab meat salad recipe that will please your taste buds and have guests wanting more! It does take some preparing, but the results are well worth the fuss and the effort. If you love crab and you like pineapple, you will enjoy this cold crab salad.
Want more? Scroll below and find more crab salad recipes shared by other's like these...
Looking For More Crab Salad Recipes?
Do you have a great crab salad recipe you would like to share? Share your recipe here!
What Other Visitors Have Said
Click below to see contributions from other visitors to this page...

Find more crab meat recipes.
Go back up to the top of Crab Salad Recipes     Crab Soups and Chowders