Blue Crab Poke
by Crab-O-Licious.com
(Pacific Northwest)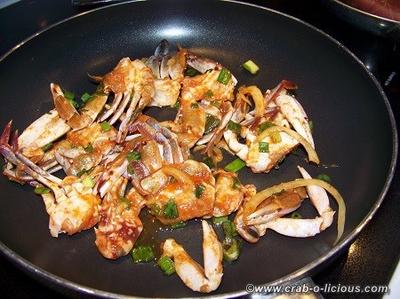 Blue Crab Poke
While skimming through the seafood counter at our local Safeway store, I spotted some Blue Crab Poke. I couldn't believe my eyes at first and pointed to the poke and asked the gentleman behind the counter if that was real Blue Crab. He said it was. I asked him where they got the crab in from and he said, "Indonesia."

That made me even more curious and I got all excited and told him to scoop me up some, please!

Of course, after getting the groceries home I had to, like a kid in candy-land, taste my new-found goods! When you love crab like we do, you will try it anyway you can, at least once...

Honestly, it wasn't what I expected. I was hoping for a softer blue crab shell and it was hard! But when I tasted it I knew it was going to be a winner!

Poke is normally served as a cold dish, an appetizer, so to speak. It's a native delicacy in Hawaii. It's meaning is to "slice" or "cut" and is normally called a "pupu" in Hawaii, which is short for "appetizer" to "mainlanders."

Modern poke typically consists of yellow fin tuna, fish cake, chili peppers, onions, seaweed, sesame oil, Hawaiian sea salts and other spices. With this particular recipe, Blue Crab Poke, I noticed that they kept it simple.

All they put in this recipe was sesame oil and some Thai chili oil to taste and topped it off with some chives. That was all it really needed.

Also, I decided, instead of eating the poke cold, that I would heat it up slowly in a nice non-stick frying pan on about 3-4 and it was a good call! The aroma from it cooking was crazy-good and when we sat down to eat this Blue Crab Poke, we were thankful for it and will probably go back and look for more next shopping day!

So, to put things on your list to make this recipe you will need:

1-Dozen Blue Crabs
About 1/4-1/3 cup-Sesame Oil-just enough to saturate the crab legs
About a Tablespoon-Thai chili oil-to taste, less for less spicy and more for more spicy, but you knew that, didn't you?
1/4 cup-chives, chopped

I would mix this all up if I were to do it by scratch and cover it and chill overnight for best results to let those juices marinate the crabs!

Enjoy!