Crab and Black Bean Nachos
by Crab-O-Licious.com
(Pacific Northwest)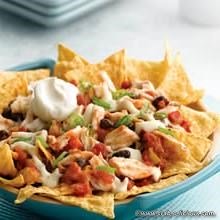 Crab and Black Bean Nachos
If you love crab and love nachos, you can put them both together and enjoy this hearty Crab and Black Bean Nachos recipe as an afternoon snack or a lunch with a friend! We think this absolutely pairs well with a margarita!


Ingredients:





6 ounces-fresh Crab Meat


1/4 Cup- Salsa (mild, medium, or hot, it up to you)


1/2 cup-Black Beans


1 cup-shredded Pepper Jack cheese


4 ounces-Tortilla Chips (We like Scoops!)


2 tablespoons-minced green onions


2 tablespoons-Sour Cream


Black Olives-optional


Directions:
Combine the salsa, black beans and crab meat together in a 12 inch non-stick pan.
Warm the mixture over a medium temperature, until the mixture is hot.
Add the Pepper Jack cheese and heat through until melted.
Pour crab meat and cheese mixture over tortilla chips, top with a spoonful of sour cream and garnish with fresh green onions.
Enjoy immediately before the cheese cools!
This crab and black bean nachos recipe serves 2, but you can easily double the ingredients to add for friends.
Check out more
Crab Meat Recipes, here!
Go to back to
Crab Appetizer Recipes
Check out more information about crab, go to our
Crab Homepage!
"Catch 'em! Clean 'em! Cook 'em! Eat 'em!"