Crab and Clam Gumbo
by Crab-O-Licious.com
(Pacific Northwest)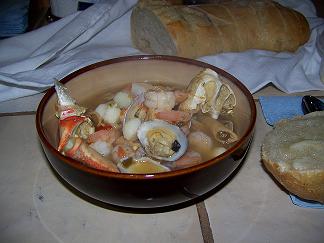 Crab and Clam Gumbo
Another signature Crab-O-Licious favorite we would like to share with you, our Crab and Clam Gumbo, perfect for this time of year to warm you up from the inside out!

Serve with a small side salad or, like we did, with fresh warm bread and butter!


Ingredients:






2 Whole Dungeness Crabs Legs-(4 legs parts)-shells cut, but leave meat inside shells including the thigh area, cut the thigh area's in 2-3 pieces, leaving all meat in their shells


1 Pound Steamer Clams


1/2 Pound Small Bay Scallops


1/2 Pound Medium -sized Shrimp-peeled, deveined


4 Cups-Water


2 Tablespoons-Chicken Bouillons-crystals


2-14 oz. Cans-All Natural Chicken Broth


2-Teaspoons-Parsley-chopped


3-Tablespoons-Minced Garlic


1/3 Cup-Picante Sauce-Hot!


2 Teaspoons-Minced Onion


1 Cup-Whole Wheat Penne Pasta


Directions:
In Dutch oven-sized pan, bring water, bouillon, broth, parsley, garlic, picante sauce and minced onion to a boil over medium-high heat. Stir well till boiling, add pasta and boil/cook till pasta is done, approximately 10 minutes.
Add the crab legs and clams and bring back to a boil, then reduce heat and simmer. Add the shrimp and scallops and cook till shrimp is done, but not over cooked, approximately 8-10 minutes.
Discard any unopened clams!
Serve this Crab and Clam Gumbo while it's hot!
This crab soup recipe serves 6-8 and goes well with warm artisan garlic bread for dipping in the broth!
Can't find fresh crab and seafood? Now you can! Right here on Crab-O-Licious.com with our new affiliates, Legal Seafoods! Thank you!
Go back to
Crab Soup Recipes
and find some more great recipes.
Check out some of our
Crab Salad Recipes
that will go well with these crab soups!
Check out
Crab-O-Licious.com Homepage
and find more useful information about crab! "Catch 'em! Clean 'em! Cook 'em! Eat 'em!"