Crab and Corn Chowder
by Crab-O-Licious.com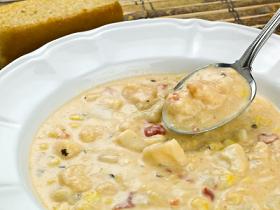 Crab and Corn Chowder-courtesy Istock.com
This crab and corn chowder has such an elegant flavor and is so easy to make. You can add a small salad, a warm dinner roll and make this dish the main meal in little prepration time.


Ingredients:






1 Package-Frozen Corn


2 Cups-Milk


2 Tablespoons-Scallions-Finely Chopped


2 Tablespoons-Diced Pimiento


1/2 Teaspoon-Salt


1 Cup-Light Cream


3 Tablespoons-Flour


2 Cans-Crab Meat


1-3 Ounce package-Cream Cheese-Cubed





In 3 quart size pan (Dutch oven) add corn, milk, scallions, pimiento and salt. Heat and stir just to boiling. Reduce heat to medium.

Add the light cream and flour and stir till thickened.

Add crab meat and cubed cream cheese; still till cream cheese melts and the crab and corn chowder is heated through.

Season to taste with salt and pepper.

This Crab and Corn Chowder recipe makes 4 servings.

Go back to Crab Soup Recipes and find some more great recipes.

Check out some of our Crab Salad Recipes that will go well with these crab soups!

Check out Crab-O-Licious.com Homepage and find more useful information about crab! "Catch 'em! Clean 'em! Cook 'em! Eat 'em!"




Join in and write your own page! It's easy to do. How? Simply click here to return to Crab Soup Recipes.