Crab and Italian Sausage Cioppino
by Crab-O-Licious
(Pacific Northwest)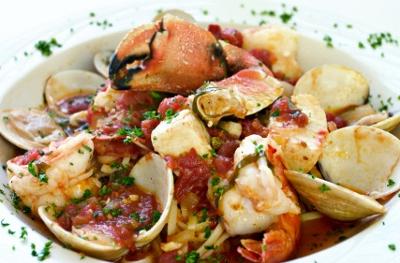 Crab Cioppino-Courtesy-Istock.com
This Crab and Italian Sausage Cioppino is a perfect winter warm-up and hearty crab soup recipe that makes enough to feed a small army! We found this pearl in Crab (Northwest Homegrown Cookbook Series)
The crab soup recipe calls for Dungeness Crab, but can be made with Blue, Snow Crab or King Crab and you can always add other seafood's with it, such as clams or mussels.

In a nutshell, cioppino is an Italian fish stew and can be made with one or many of you favorite fish or shellfish. Of course, we choose crab and blend in a few other favorite seafoods along with crab.

Below, we have another Crab Cioppino you may also like to try, but first...



Crab and Italian Sausage Cioppino
Ingredients:


1 Tablespoon-Olive Oil


1 1/2 Pounds-Hot or Mild Italian Sausages


1 Cup-Chopped Onion


1/3 Cup-Diced Celery


1 Cup-Sliced Green Onion


1/2 Cup-Diced Green Bell Pepper


3 Tablespoons-Minced Garlic


1 Pound-Fresh Italian Plum Tomatoes (peeled, seeded and diced) or, 2 Cans-Italian-style canned tomatoes


2 Cups-Fish or Chicken Stock


1 Cup-Bottled Clam Juice


1/2 Cup-Dry Red Wine


1/4 Cup-Tomato Paste


1/4 Cup-Lemon Juice


4 Bay Leaves


2 Teaspoons-Minced Thyme

2 Teaspoons-Minced Basil


3 Whole Dungeness Crabs-pre-cooked, cleaned, portioned and leg shells slightly cracked


Salt and Pepper-to taste


Directions:
Heat the olive oil in a Dutch Oven or larger pot (about 8 quarts) over medium heat. Add the sausages whole and fry until they are firm and lightly browned, turning them often for about 10 minutes. Set the sausages aside to cool and spoon out any left over fat in the pot and discard the excess.
Add the onion and celery and cook till tender for about 5 minutes, stirring occasionally. Add the green pepper, green onion, and garlic and cook for 2 minutes longer.
Cut the sausages into 1 inch pieces and put them back in the pot along with the tomatoes, stock, clam juice, wine, tomato paste, lemon juice, bay leaves, basil, and thyme. Bring just to a boil over high heat, reduce the heat to medium-low heat and simmer for 10 minutes.
Add the crab pieces (and any other seafood you may choose to add), cover the pot, and cook for about 15-20 minutes.
Season the cioppino to taste with salt, pepper, and more lemon juice as you prefer. Remove the bay leaves and discard. Serve at once! This Crab and Italian Sausage Cioppino recipe serves 6-8.
Crab Cioppino
This dish is minus the sausage and all seafood! We got this recipe from an old, old Better Homes and Garden recipe cookbook from back in the good ol' days. You'll find the recipe is a timeless classic!
Ingredients:


2 Pounds-Fresh or Thawed out Frozen Halibut cheeks, or fillets


8 Ounces-Shelled Shrimp


1/2 Cup-Bell Pepper-chopped


1/4 Cup-Onion-chopped


2-Cloves-Garlic-minced


1/4 Cup-Olive Oil


1-28 Ounce Can-Tomatoes-chopped


1-15 Ounce Can-Tomato Sauce


1 1/2 Cups-Water


1/3 Cup-Parsley-snipped


1 teaspoon-Salt


1/4 teaspoon-Dried Oregano-crushed


1/2 teaspoon-Dried Basil leaves-crushed


Dash-Ground Black Pepper


1 Cup-Dry Red Wine


24-Clams in shells


1 Pound-Crab Legs


Directions:
Thaw the frozen halibut and shrimp. In a Dutch oven cook the bell pepper, onion, and garlic in oil till tender, but not browned.
Add the tomatoes, tomato sauce, water, parsley, salt, oregano, basil, and pepper. Cover and bring to a boil.
Reduce the heat to simmer 20 minutes.
Add the wine and continue to simmer another 10 minutes.
Wash the clams and crab legs and cut the legs into serving sizes and slit them so they open easily while serving.
Add the halibut, shrimp, clams and crab legs to the broth, cover, and simmer for another 5-10 minutes, till the shells of the clams open. Discard any of the clams that didn't open.
Serve this Crab Cioppino recipe while it's hot! Enjoy! This makes about 8 servings.
Go back to
Crab Soup Recipes
and find some more great recipes.
Check out some of our
Crab Salad Recipes
that will go well with these crab soups!
Check out
Crab-O-Licious.com Homepage
and find more useful information about crab! "Catch 'em! Clean 'em! Cook 'em! Eat 'em!"