Crab and Shrimp Pot Pie-This is Crazy Good!
by Beverly
(Pacific Northwest)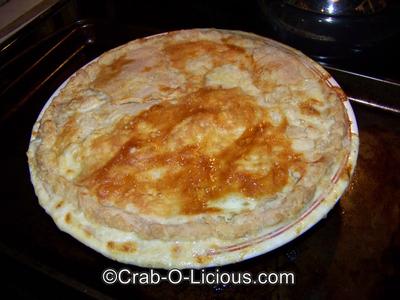 Crab and Shrimp Pot Pie
Been having a craving for some pot pie lately. Since we been out crabbing I thought I'd give this Crab and Shrimp Pot Pie idea a try since I also have a little easy peel shrimp on hand. This is a good way to use them up as well!

Just a side note: I'm not a "chef" nor a "photographer" so, please, forgive my sloppiness, but, in the end...This recipe totally rocked my craving for a good, homemade pot pie! It is crazy good pot pie!

Now, before I go into the ingredients and directions for this Crab and Shrimp Pot Pie recipe, when it comes to the vegetables, there is nothing set in stone about what you "have" to use.
Most pot pies, traditionally, have peas and carrots, however, my husband hates cooked carrots and I respect that. With this recipe you can put these in single serving dishes and add whatever vegetables the recipient will like, or you can just add the ones you all enjoy. So, when I state the ingredients I used, don't turn the page because you don't like zucchini or onions! Just omit those ingredients and add what you like!
Also, you can either make your own pie crust (recipe below) or buy one. It's totally up to you! I decided to make a mess and make it myself.

So, with no further ado...

Ingredients for the filling:

1 cup-diced Onions
1 cup-diced Celery
1 cup-Zucchini
3 Tablespoons-Butter
1/2 cup-Flour and about a 1/4 on hand on the side
2 cups-Fish Stock or Chicken Stock (I used Fish Stock)
1 1/2 cups-Heavy Cream
1/3 cup-Dry Sherry
1 teaspoon-Old Bay Seasoning
1 cup-Crab Meat, picked over for cartilege-drained of liquids
Dozen-Easy Peel Shrimp-tails off-drained of liquids
1/2 cup-Frozen Peas
1-Pie Dough Crust for 12 inch baking dish or 4 little baking dishes


For the Pie Crust:

Blend 1 cup flour, a pinch of salt and 6 tablespoons of very cold butter. I take two butter knives and keep slices it over and
over. Works real well! I got this trick from my daughter-in-law whose mother is a very good baker! She used to cook for commercial
fisherman back in the day when they had extra help on decks. She's a good baker!

Next, when the mixture gets like its going nowhere else, add 1 beaten egg and 1 tablespoon of cold water and mix it into a ball and roll it out, but don't over work it.

Preheat the oven to 400 degrees.

Season the shrimp and crab meat with the Old Bay Seasoning, mix well without breaking up the crab meat too much and set aside. You can add a little more if you want.

Saute' the onions, celery and zucchini in the 3 tablespoons of butter until soft.

Add the flour and blend well with a whisk. Add the fish stock, (or chicken stock), and the cream and sherry and keep whisking till its smooth and starts to thicken up. If it doesn't thicken up after a couple minutes, sprinkle in some more flour and few pinches at a time. When it starts to thicken up, carefully add the crab meat and shrimp and stir just a bit and add the frozen peas. Then, carefully, pour the mixture into the pie plate and top with the pie crust and pinch the edges.

Bake until the crust is golden brown for about 30 minutes.

This recipe will feed 4. Serve with bread to lap up the creamy filling. Enjoy!