Crab Bisque Soups
by Crab-O-licious
(USA)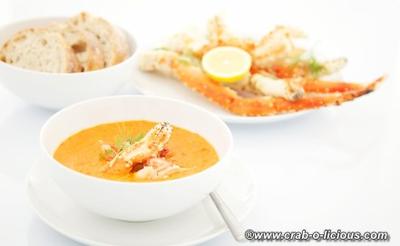 Here we have not 1, not 2, but 3 Crab Bisque Soups! Two of these delicious crab meat soups are exclusively from one of our absolute favorite crab cook books... Louisiana Seafood Bible, The: Crabs
that we received from the authors themselves!

We absolutely love making crab soups, especially in the fall and winter months. This book is jam-packed with pages and pages of unique crab soup recipes and not one, but 2 Crab Bisques! So, here, you will get a double-triple treat with our added Poor Man's Crab Bisque. But, First, Darn Good Crab Bisque and Corn and Crab Bisque Recipes....



Darn Good Crab Bisque
Ingredients:



1-Stick Butter


1 Large-Onion


1-Red Bell Pepper-chopped


2-Stocks-Celery-diced


1-Clove Garlic-minced


6-Green Onions-chopped


1/4 Cup-flour


2-Bay Leaves


1 1/2 Quart-Chicken Stock


1/4 teaspoon-Thyme


1-teaspoon Salt


1/2 teaspoon-Black Pepper


1/2 teaspoon-Crab Boil-liguid


1 1/2 Pounds-Crab Meat


1 pint-Half and Half



Directions:
Melt the butter on low heat. Saute' the onion, bell pepper, celery, garlic, and green onions until soft.
Add the flour; increase the heat to medium and cook for about 5 minutes, stirring constantly.
Add the remaining ingredients except for the half and half and bring to a boil.
Turn the heat down and simmer for 20 minutes.
Pour in the half and half and simmer for another 10 minutes or until smooth. This first crab bisque soups recipe serves 4 to 6.
Corn and Crab Bisque Soup
Authors, Jerald and Glenda Horst says that any kind of crab meat may be used in this next Crab Bisque recipe dish, but that the claw meat is ideal, as it is the least expensive crab meat, and its dark color allows it to hsow up well in the soup.
They say that this is a local Baton Rouge resident, who grew up as a farmer's daughter in rural Ascension Parish. She says that she loves all things "corny", so she has lots of corn in this recipe. A person less enthusiastic about corn may want to use one less can of whole kernel corn. The best thing about this recipe, Renee says, besides its taste, (of course!) is that it only takes 30 minutes to prepare. That works for us!
Ingredients:


1/4 Cup-Butter


3/4 Cup-Onion-chopped


3-14 ounce cans-Chicken Broth


2 Bay Leaves


2 teaspoons-Creole Seasoning


2-Cans of Corn-whole kernel,drained


1-14 ounce can-Cream-Style Corn


1/2 Cup-Half and Half


3-Tablespoons-Flour


1/2 Cup-Milk


1 Pound-Fresh Crab Meat


Directions:
Heat the butter in a large pot over medium heat. Stir in Onion and cook until soft. Pour in the chicken broth and bring to a boil.
Add the bay leaves and Creole Seasoning. Stir in the drained whole kernel corn into the boiling broth and simmer for 10 minutes.
Reduce heat to medium low.
In a bowl, mix together the cream-style corn and half and half and set aside.
In a separate bowl, stir together the flour and milk. Slowly stir into the simmering soup. Stir constantly on simmer for 1 to 2 minutes.
Stir in the half and half mixture. Reduce the heat to low, stir in the crab meat and cook until warmed through, about 5 minutes, and serve.
This Corn and Crab Bisque soup recipe serves about 8.
Poor Man's Crab Bisque
Ingredients:


1-Large-Family-Sized can-Cambells Tomatoe Soup


1-Small Can-Chicken Broth


1/4 Cup-Half and Half


3-Green Onions-chopped


1/2 Pound-Crab Meat (Imitation works great!)



Directions:
On medium heat, mix the tomatoe soup and chicken broth till smooth and creamy. Add the half and half and heat, stirring constantly till warm, about 5 minutes. Stir in the crab meat and garnish with green onion and serve! Makes 4 to 6 servings of Poor Man's Crab Bisque. Add some warm bread and butter and you're good to go! Enjoy!
Go back to
Crab Soup Recipes
and find some more great recipes.
Check out some of our
Crab Salad Recipes
that will go well with these crab soups!
Check out
Crab-O-Licious.com Homepage
and find more useful information about crab! "Catch 'em! Clean 'em! Cook 'em! Eat 'em!"