Crab Claw Appetizer
by Crab-O-Licious.com
(Pacific Northwest)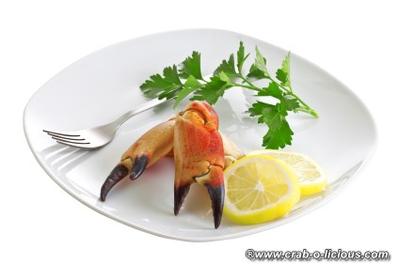 Stone Crab Claw Appetizer
Looking for a way to spruce up those crab claws? Try this fast and easy Crab Claw Appetizer recipe. It serves up 6 servings and will definitely serve well for a healthier starter dish than just a couple claws and a lemon!

Ingredients:





1 Cup-Sour Cream


3 Tablespoons-Prepared Horseradish


Dash-Paprika


1/4 teaspoon-Salt


36-Cocktail Crab Claws-cooked and chilled


Lettuce or Romaine


Mix together the sour cream, horseradish, 1/4 teaspoon salt, and paprika and chill.
For each serving, arrange about 6 crab claws on a lettuce-lined plate.
Serve with a small cup of the horseradish sauce. If desired, sprinkle paprika on top of the sauce to add some color!
Other creative ideas...
You can add black olives, green onions, and/or other yummy ingredients, such as, pine nuts to your liking along with this recipe, too, to really spruce up these crab claw appetizers!
Also, if you are using romaine lettuce or a regular head of lettuce, you can wrap the crab claws topped with the sour cream and horseradish mixture and enjoy them as wraps!
Either way...Do Enjoy!
Find more quick and easy
Crab Appetizer Recipes, here.
Find a whole new world of
Crab Meat Recipes
to enjoy!
Check out more cool crab stuff. Go to
Crab-O-Licious Homepage
Treat your family to restaurant quality meals in the comfort of your own home.
Shop Legal Sea Foods Today