Crab Couscous Casserole
by Crab-O-Licious
(USA)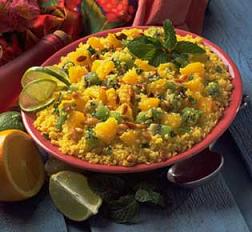 Crab Couscous Casserole-courtesy-Istock.com
These tiny beads of couscous can hold some major flavor in this Crab Couscous Casserole for 2.

I don't need to mention how much we love crab, do I? What we love about couscous is that they're a great and healthier alternative to rice, and again, they pack a lot of flavor.



Ingredients:





8 Ounces-Dry Couscous


1 1/2 Cups-Water


1/2 Pound-Crab Meat (2 cans)


1 Teaspoon-Fresh Dill-chopped


1 Teaspoon-Fresh Mint-chopped


1 Tablespoon-Brown Sugar


1/8 Teaspoon-White Pepper


1 Tablespoon-Olive Oil


1 Can-Mandarin Oranges


Directions:
Place water, salt, sugar, pepper and olive oil in a sauce pan and bring to a boil.
Add the crab meat and simmer for 3 minutes.
Remove from heat and add couscous; cover and let stand for about 7 minutes.
Fold in oranges, juice, and fresh herbs.
Let stand for 2-3 minutes, then, serve.
This Crab Couscous Casserole recipe serves 2.
Did you try some of our
Crab Soup Recipes?
They'll keep warm from the inside out!
Check out some more of our
Crab Meat Recipes, here.
Go to our
Crab-O-Licious.com Homepage
and find more interesting information about crab..."Catch 'em! Clean 'em! Cook 'em! Eat 'em!"