Crab Fried Rice
by Beverly
(Pacific Northwest USA)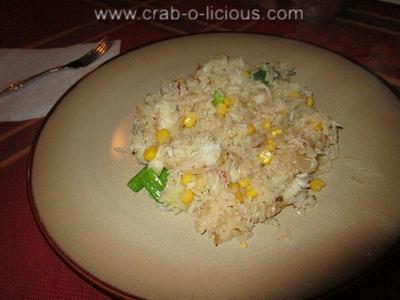 Crab Fried Rice
Crab Fried Rice is a favorite dish in our home. This recipe is easy to prepare and quite flavorful! The flavor of crab is prominent with the ingredients...



Ingredients:

3 Cups Rice
3 Cups Water
4-5 Tablespoons Sesame Oil
2 Eggs
3 Tablespoons Fish Sauce
1 Bunch of Green Onions-chopped
4 cloves of Garlic-chopped, or 2 Tablespoons of minced Garlic
2 small teaspoons-White Pepper
1 Pound Fresh Crab Meat or 4 cans of Crab Meat-drained



Cook:

3 Cups-Water
3 Cups-Rice

Set aside, but only for a moment...


Over medium to high heat, add the oil to a wok or large non-stick Dutch oven.

Add the chopped, minced garlic to the oil till it begins to turn brown, then, add the
rice, stir. Add the crab meat and continue stirring. Make some room in the middle of the pot and add a bit more oil and crack the eggs and scramble them in. Stir well.

Add the fish sauce and ground white pepper to taste. Add the green onion and blend well and serve!

Join in and write your own page! It's easy to do. How? Simply click here to return to Share A Crab Meat Recipe.