Crab Louis Recipe
 This Crab Louis recipe goes well as an appetizer, a light lunch or as the main dish. It just depends how big your appetite is!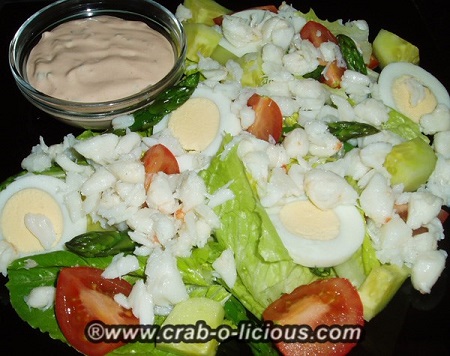 This recipe will go a long way as it serves 4 as a meal. This is a time honored recipe, but needs absolutely no updating. To do so, it would not be a "true Louis," but just another nice, crab salad dish!
Apparently, no one really knows where or from whom this classic salad originated from, but word has it that it leans towards having a "San Francisco flavor."
Ingredients:

1-Medium-sized Head of Lettuce (Romaine)-Washed in Cold Water
1-Pound Fresh Crab Meat-shelled (3-Cans Crab Meat)
4-Asparagus stalks-Cut into bite size
2-Large Tomatoes-Cut into Wedges
4-Hard Boiled Eggs-Cut into Wedges
Crab Louis Dressing-(Recipe Below)
1-Lemon-Cut into Wedges
Paprika (optional)
Tear off 4 large lettuce leaves from the head of lettuce. Set aside.
Tear remaining lettuce into bite sized pieces.
Take 4 salad plates and place one leaf of lettuce on each.
Top each leaf with torn lettuce.
Reserve 4 large pieces of crab meat and flake the rest.
Arrange the flaked crab meat, tomatoes, asparagus and eggs on lettuce.
Drizzle with the Crab Louis Dressing.
Garnish with the reserved large crab meat and lemon.
Sprinkle with paprika if you want.

Crab Louis Dressing Recipe
To make this recipe extra special and enhances the "true Louis flavor", this dressing is worth the effort to make from scratch as well. All you need is to...
Mix together:
1/2 Cup-Mayonnaise
1/4 Cup-Finely Chopped Green Onion
1/4 Cup-Finely Chopped Green Pepper
2 Tablespoons-Chili Sauce
1/2 Teaspoon-Lemon Juice
1 Tablespoon-Milk
Dash-Worcestershire Sauce
1 Teaspoon-Prepared Horseradish
1/4 Cup-Whipping Cream-Whipped to Soft Peaks
Drizzle over the salad.
Enjoy!
You like this crab salad, you might like this cold crab salad, too!
Check out more crab meat recipes, here!
Go back up to the top of Crab Louis Recipe