Crab Pesto with Corn
by Crab-O-Licious.com
(Pacific Northwest)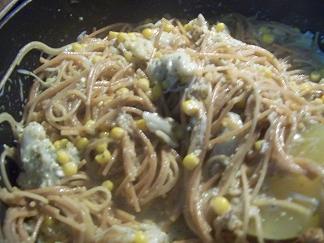 Crab Pesto with Corn
There's just something about crab in a nice light pesto sauce! They simply go hand in hand. This is a "new favorite crab meat recipe" around our home and is a Crab-O-Licious original. Try it! We hope you'll like it. Especially if you love pesto, but not thick and heavy as some restaurant dishes prepare you to have. This pesto sauce is much lighter and adding fresh crab meat to it is so good and worth sharing!



Ingredients:







2/3 Cup-Extra Virgin Olive Oil


1 Package (.66 ounces)-Organic Basil


1 Small Container-Pine Nuts (8 ounces)


3 teaspoons-Lemon Juice


1 Cup-Water


2 Tablespoons-Minced Garlic


1 Cup-Grated Parmesan Cheese


1 Package of Whole Wheat Thin Spaghetti


2 Cups-Dungeness Crab Meat


1 Can Whole Kernel Corn-drained of water


Directions:
Add ingredients, except for the spaghetti, corn and crab meat to blender and blend well; refrigerate for at least an hour. The pesto can be made a day ahead.
In large pan, bring 2-3 quarts of water with a small splash of oil and pinch of salt to boil.
In dutch oven-sized pan, pour in the pesto sauce and gently add the crab meat and corn and simmer on low while waiting for the water for the spaghetti to boil.
Stir occasionally and gently. Careful not to break up the lump crab meat.
Add spaghetti to boiling water, breaking the noodles in thirds, and cook till done. Drain the noodles in colander and rinse under cold water for a minute.
Add the noodles to the simmered crab meat and pesto sauce and let simmer another 5-10 minutes. Serve hot!
This Crab Pesto with Corn recipe makes about 4-6 servings.
See more
crab appetizer recipe's here!
Check out one of our favorite
Crab meat salad recipes, here.
Check out some more of our
Crab Meat Recipes, here.
Go to our
Crab-O-Licious.com Homepage
and find more interesting information about crab..."Catch 'em! Clean 'em! Cook 'em! Eat 'em!"