Crab Pot Stickers
by Crab-O-Licious
(USA)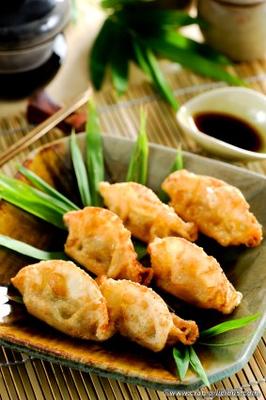 Crab Pot Stickers
We tried this Crab Pot Stickers recipe out of Fred Thompson's "Crazy For Crab" cookbook. It's crazy good and suggests a "Honey-Ginger Dipping Sauce" we include below. The dipping sauce is a great recipe to have on store for crab legs and crab cakes, too!

Ingredients:



2-Scallions-chopped


2 Tablespoons-Toasted Sesame Seeds


2-Large Egg Whites


2 1/2 Teaspoons-Ginger-finely grated


1 Pound-Crab Meat


24-Won Ton Wrappers


2 Tablespoons-Cornstarch


2 to 3 Tablespoons-Canola Oil


1/2 Cup-Water


Directions:
Combine the scallions, sesame seeds, egg whites and ginger in large mixing bowl. Gently fold in the crab meat.
Place 12 won ton wrappers on a dry counter. Brush the edges with water and put 1 tablespoon of the crab mixture in center of each won ton.
Pull each wrapper up around the filling, crimping the dough, but not covering the top. The filling should come to the top of the wrapper.
Sprinkle the cornstarch on a plate and set each pot sticker in the cornstarch. Repeat with the other 12 won tons.
Heat the canola oil in large, nonstick skillet over medium high heat until it simmers.
Working in batches to avoid crowding with the pot stickers, place them cornstarch side down in the skillet and fry until golden brown; about 1 minute.
Place on sering plates and serve with dipping sauce...
Dipping Sauce-Honey Ginger
Ingredients:



2 Tablespoons-Tamari or Lite Soy Sauce


1 Tablespoon-Honey


1 1/2 Teaspoons-Dijon Mustard


1 Tablespoon-Water


1 Teaspoon-Rice Vinegar


1/2 Teaspoon-Ginger-finely grated


1/4 Teaspoon-Sesame Oil


1 Teaspoon-Fresh Chives-chopped


Directions:
Combine all ingredients well and set aside until pot stickers are done.
This Crab Pot Stickers recipe serves 4-6.
Check out our
How To Make Crab Cakes
and find some great recipes!
Go back to
Crab Appetizer Recipes
and find more delicious ideas!
Check out
Crab-O-Licious.com Homepage
and find more useful information about crab.