Crab Salad Nicoise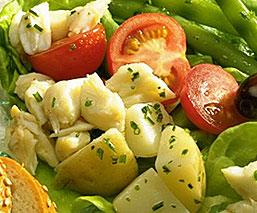 Crab Salad Nicoise
Enjoy this healthy cold crab salad! Good for all seasons...


Crab Salad Nicoise:
Ingredients:


4 Medium-sized Boiled Potatoes


1 Pound-Green Beans-cut into 2-in. lengths


1/3 Cup-Olive Oil


1/4 Cup-White Wine Vinegar


1 Tablespoon-Chives or Green Onion-thinly sliced


1/4 Teaspoon-Salt


1/4 Teaspoon-Pepper


6 Cups-Butter Lettuce Leaves


1 Pound-Crab Meat-preferably lump


1/4 Cup-Black Ripe Olives-sliced


1 Cup-Cherry Tomatoes-halved


1-Lemon-halved, cut in quarters


Directions:
Cook potatoes in boiling water 30 minutes or until tender; drain and cool 10 minutes. Cut potatoes into 1-inch chunks and place in a shallow dish.
Cook the beans in boiling water 10 minutes or until tender; drain and cool 10 minutes. Add to potatoes.
Combine the oil, vinegar, chives, salt and pepper in a small jar with tight-fitting lid. Shake well and pour two-thirds of the dressing over potatoes and beans. Refrigerate for at least 2 hours or up to 24 hours, stirring occasionally.
To serve, arrange lettuce on four plates
and spoon potato-string bean mixture on
top. Divide the crab meat among the plates and garnish with the olives and tomatoes. Drizzle remaining dressing on top.
This Crab Salad Nicoise recipe serves 4.
Click in here to go back to
Cold Crab Salads
Or, go to
Crab Salad Recipes, here!
Go to
Crab-O-Licious.com Homepage