Crab Salad Sandwich
by Crab-O-Licious.com
(Pacific Northwest)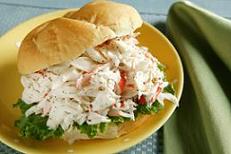 Crab Salad Sandwich
We got this crab salad sandwich recipe out of Cynthia Nims "Crab" series. After trying this one out, we can't help but agree with the Author that, "There's nothing NOT to like about this sandwich!" and her note to, "just take care to toast the bread lightly so it doesn't become too crunchy" is noteworthy...


Ingredients:




4-Slices Bread


2-Tablespoons Mayonnaise


2-Leaves Lettuce-rinsed and dry


6-8 Ounces of Crab Meat


1/2-Lemon-cut to 2 wedges


4-Thin sliced Bacon-fried or microwaved to your liking


4-Thin slices Beef Steak Tomatoes


1/2-Ripe/Firm Avocado-peeled, pitted and thinly sliced


Toast the bread lightly. Spread 1/2 tablespoon of the mayo on one side of each slice of bread.
Top 2 of the slices of toast with the lettuce leaves. Pick over the crab meat for shells and scatter the crab meat evenly over the lettuce leaves. Squeeze the lemon wedges over the crab, removing any seeds that may fall from the lemons. Lay the tomato slices over the crab, top with the bacon slices and avocado slices; top with remaining toast slices.
Makes 2 crab salad sandwiches.
Go back to find more
Crab Salad Recipes
Try one of our favorite
Crab Meat Recipes
Check out more about crab, start by going to
Crab-O-Licious.com Homepage
and scroll down to the table of contents! Enjoy this site! Share it with others!