Crab Stuffed Flounder
by Crab-O-Licious.com
(Pacific Northwest)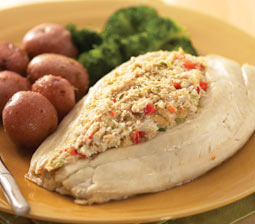 Crab Stuffed Flounder-photo courtesy-Istock.com
Found this Crab Stuffed Flounder recipe from our local Fred Meyers supermarket in the Great Pacific Northwest. It's a true crab and seafood lover's delight!

Always check back in your local seafood counters. You never know when they'll hand out new seafood recipes for you to try.


Ingredients:







2 Pounds-Flounder


3 Tablespoons-Butter


1/4 Cup-Onion, minced


3-Green Onions, chopped


1/4 Cup-Red Bell Pepper, chopped


1/2 Stalk-Celery, minced


2-Cloves Garlic, minced


1/2 Pounds-Crab Meat, shredded


1/2 teaspoon-Old Bay Seasoning


1/4 Cup-Dry Bread Crumbs


Salt and Pepper to taste


Directions:
Preheat oven to 350°F. Lightly grease a baking sheet.
In a large saucepan, heat butter. Add onion, green onions, bell pepper, celery and garlic. Saute' until onions are soft.
In a medium sized mixing bowl, add shredded crab meat, seasoning, bread crumbs, salt and pepper and mix well. Add onion mixture from saucepan, blend well.
Lay the flounder on a baking sheet.
Mound the crab mixture in the center of the fillet. Cut another fillet down the center and wrap around mounded crab meat. Repeat.
Bake for 25-30 minutes, or until flesh is firm and white.
Enjoy this Crab Stuffed Flounder recipe!
Go back to
Crab Meat Recipes
and find some more great recipes.
Check out some of our
Crab Salad Recipes
that will go well with these!
Check out
Crab-O-Licious.com Homepage
and find more useful information about crab! "Catch 'em! Clean 'em! Cook 'em! Eat 'em!"