Crab Stuffed Lobster
by Crab-O-Licious
(USA)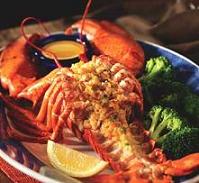 Crab Stuffed Lobster-photo courtesy-Istock.com
I got this Crab Stuffed Lobster recipe from a credible source-Red Lobster! I was pleasantly surprised that they would share their delicious secret recipes. Crab is our first love, lobster our second. Put them together and we have our absolute favorite seafood combo all in one!

This awesome crab and lobster recipe is so easy and we appreciate that we can make this at home at a lower cost than going out to eat. Enjoy!



Ingredients:


Crab Meat Stuffing:






1 Pound-Crab Meat


1 Teaspoon-Shallot-minced


1 Teaspoon-Parsley


1 Tablespoon-Mayonnaise


1 Tablespoon-Bread Crumbs


1 Egg


1 Teaspoon-Lemon Juice


1/8 Teaspoon- Worcestershire Sauce


Directions:
Blend all ingredients except the crab meat.
Gently fold in the crab meat; chill.
Meanwhile, take 2 whole lobsters and split them lengthwise with a large knife and remove stomach sac.
Stuff equal portions of crab meat stuffing into each head.
Crack the claws with the blunt side of knife.
Pour lemon juice on tail meat, then sprinkle with paprika and dot with pieces of butter.
Bake in a 400°F preheated oven for 15 minutes.
Serve with melted butter and lemon wedges.
This Crab Stuffed Lobster recipe serves 2. Double the recipe for 4 servings and etc...
Did you try some of our
Crab Soup Recipes?
They'll keep warm from the inside out!
Check out some more of our
Crab Meat Recipes, here.
Go to our
Crab-O-Licious.com Homepage
and find more interesting information about crab..."Catch 'em! Clean 'em! Cook 'em! Eat 'em!"