Crab Stuffed Pork Chops with Apple Gravy
by Crab-O-Licious.com
(Pacific Northwest)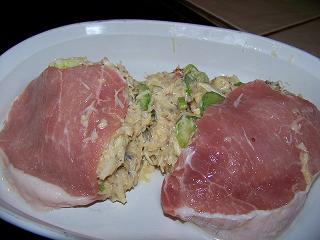 Just whipped up this Crab Stuffed Pork Chops with Apple Gravy recipe last evening. It's definitely a crab meat recipe that is fit for a king! It was so good, thought we should share...

Ingredients:



2-thick pork chops, without bones-cut through the width

For the Stuffing:

You can use your favorite crab cakes recipe or, simply through together:






1/2 Pound-Fresh Dungeness Crab Meat (or 2-3 cans crab meat)


1-Egg, beaten


4-5 Drops-Tabasco


2-Celery sticks-sliced


3 Dashes-Worcestershire sauce


1-Tablespoon-Stone Ground Mustard


1/4 Cup-Mayo


1 Tablespoon-Minced Onion


Directions:
Blend well and stuff into the pork chops, cover, and bake at 350 degrees for 45 minutes. Meanwhile, make the apple gravy...
Apple Gravy:
Ingredients:


1-Green Granny Apple-core, peeled, and diced


1-Tablespoon-Butter


1-Tablespoon-Corn Starch


1 Cup-Water


1/4 Cup-Heavy Cream


Pinch (or 2)-Nutmeg


Salt and Pepper-to taste


In a small sauce pan on low heat, melt the butter and add the apple. Up the heat just a bit, but don't fry the apples. Just cook them for about 10 minutes on low to medium heat.
Mix the corn starch and water together and set aside. When the apples are getting soft, return the heat to very low, add the corn starch and water to the apples, stir, and add the remaining ingredients and continue to cook on low for about 10 more minutes, then, set aside on a warmer till the pork chops are done.
After cooking the crab stuffed pork chops for 45 minutes uncover and cook for 20-30 more minutes or until the chops start to brown.
Put the stuffed pork chops on a plate and pour the apple gravy over them and serve!
Enjoy this Crab Stuffed Pork Chops with Apple Gravy recipe! Serves 2.
Go back to
Crab Meat Recipes
and find some more great recipes.
Check out some of our
Crab Salad Recipes
that will go well with these!
Check out
Crab-O-Licious.com Homepage
and find more useful information about crab! "Catch 'em! Clean 'em! Cook 'em! Eat 'em!"