Crab Stuffed Portabella
by Crab-O-Licious
(USA)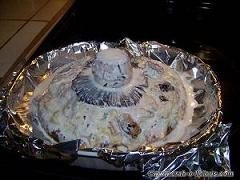 Crab Stuffed Portabella Mushroom
This crab stuffed portabella recipe was inspired, again, by Fred Thompson's "Crazy For Crab" cookbook.

In his recipe he used smaller sized mushrooms and to be honest, I'm not that talented to stuffed them without breaking the smaller sized whole mushroom, so I used the recipe with portabella's and WOW! What a great idea!

Crab stuffed portabella turned out to be one of our absolute favorite "Crab-O-Licious" recipes! Can you find a portabella mushroom this size??? We got lucky! Don't fret if you can't find one this size. It's okay to use 2, 3, or even 4 smaller mushrooms in this recipe...


Ingredients:






1 Large Egg-slightly beaten


1 Cup-Mayonnaise


2 Cups-Dry Bread Crumbs (whole wheat)


1/2 Teaspoon-White Pepper


1 Teaspoon-Salt (omit with Dungeness)


2 Tablespoons-Fresh Parsley-chopped


1 Pound-Crab Meat


1 Large-Portabella Mushroom


1/2 Cup-Mayo


1 Cup-Heavy Cream


Directions:
Preheat oven to 350 degrees.
Take your portabella and carefully carve out the cap and stem, leaving them together, so you have the mushroom head and cap and stem for topping; set aside.
Mix egg, first cup of may, bread crumbs, pepper, salt and parsley together well. Gently fold in the crab meat.
Lightly grease a small baking sheet, or as I used in picture above for easy clean up, line with tin foil and spray foil or pan lightly with cooking spray.
Place the mushroom, top side down into baking sheet. Stuff with mixture and top with cap and stem.
Mix together the 1/2 cup of mayo and heavy cream and pour over the entire mushroom area.
Bake until golden brown for about 45 minutes.
This Crab Stuffed Portabella recipe serves 4 or 2 real hungry people!
Did you try some of our
Crab Soup Recipes?
They'll keep warm from the inside out!
Check out some more of our
Crab Meat Recipes, here.
Go to our
Crab-O-Licious.com Homepage
and find more interesting information about crab..."Catch 'em! Clean 'em! Cook 'em! Eat 'em!"