Crab Stuffed Shrimp
by CrabOLicious.com
(Pacific Northwest)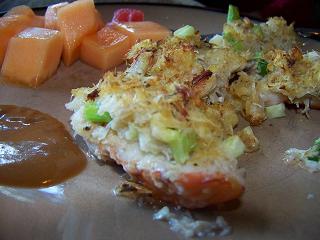 Crab Stuffed Shrimp
There's just something real satisfying in this recipe. Could it be because crab and shrimp are 2 of my top favorite seafood's? Or could it be because you can use this crab recipe for a main meal or an anytime crab appetizer? Or...could it be because it's not only "crabOlicious!" but can be a fast and easy "comfort-food" as well! I guess it's all in all it's about one's taste for good food. Crab is so versatile!



Ingredients:






12-15 Large Shrimp-shells peeled, deveined, and sliced down the middle for the stuffing, but don't slice them all the way through...you'll loose the stuffing...


1 Cup Crab Meat (2-3 cans, if you don't have fresh crab)


1 Large Egg-beaten


3 Green Onions-chopped


3-4 Dashes of Hot Sauce


1 Tablespoon-Worcestershire Sauce


1 1/2 Tablespoons-Stone
Ground Mustard (we like Jack Daniels!)


1/2 Cup-Mayonnaise


1/2 Cup-Bread Crumbs






Directions:


Preheat oven to 350 degrees...

In medium sized mixing bowl, beat the egg, add the onions, hot sauce, Worcestershire sauce, mustard, and mayo. Gently, fold in the crab meat, then, fold in the bread crumbs.

Add the shrimp to a greased (or greased and tin foil) pan on their back sides, (opposite of the slits), and divide the crab meat stuffing onto the shrimp. Bake at 350 degrees for 40 minutes covered.

After 40 minutes, uncover the dish and bake for another 10 minutes to lightly brown. Serve hot! Serves approximately 4 people.

We love this dish with a side of peanut satay! You can find it in the Asian cooking area of your local grocery store.

You can also throw these on a grill and grill them on medium heat till done. You just have to keep them covered and can't turn them...you'll lose the stuffing between the grates! When grilling them, try them with Blackberry Chipotle Sauce slathered over them, too!

Also, you don't have to use this stuffing recipe...you could try another flavor from any other kind of our Best Crab Cake Recipes.

Enjoy your Crab Stuffed Shrimp!

Go back to Crab Meat Recipes and find some more great recipes.



Check out some of our Crab Salad Recipes that will go well with these!


Check out Crab-O-Licious.com Homepage and find more useful information about crab! "Catch 'em! Clean 'em! Cook 'em! Eat 'em!"