Crab Toast
by Bev
(Bellingham, WA USA)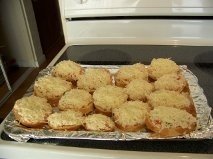 Crab Toast
This Crab Toast recipe is a "must try" whether you are looking for a delicious, fast, and easy crab meat entree recipe or a crab appetizer.

Using this crab toast recipe for an appetizer, all you have to do is cut the bread slices thinner!


Ingredients:






1-16 oz. Loaf-French Bread


1-Cube Butter (1/4 Cup)


4-Tomatoes-peeled, chopped


1-Jalapeno Pepper-seeded, chopped


2-Garlic Cloves-minced


2 Teaspoons-Fresh Cilantro-minced


2-Pkg. Imitation Crab Meat (or 1-Pound Fresh/Canned Crab Meat


3/4 Cup-Ricotta Cheese


1/2 Cup-Sour Cream


2 Cups-Italian Shredded Cheese


Directions:
Preheat oven to 375.
Cut the bread in half horizontally; hollow out top and bottom, leaving 1-inch shells. Crumble removed bread and set aside.
In a large skillet, melt the butter over medium heat; add half of the tomatoes. Add the jalapeno, garlic and cilantro and cook and stir for about 4 minutes. Remove from heat.
In a large bowl, combine the crab, ricotta and sour cream. Stir in the tomato mixture, the reserved bread crumbs and 1 cup of the cheese.
Spoon into bread shells.
Place on an ungreased baking sheet and bake at 375 degrees for 15 minutes. Top with the remaining cheese and tomatoes. Bake for 5-7 minutes longer until the cheese in melted.
Makes about 6 entree servings or 24 crab appetizers.
My father-in-law is such a pearl! For the last 4 or 5 years he has supplied me with a subscription to
Taste of Home
where I've found a lot of wonderful recipes including this Crab Toast recipe! Do enjoy!
Check out more
Crab Meat Recipes, here!
Go to back to
Crab Appetizer Recipes
Check out more information about crab, go to our
Crab Homepage!
"Catch 'em! Clean 'em! Cook 'em! Eat 'em!"