Crab With Mushrooms
by Crab-O-Licious.com
(Pacific Northwest)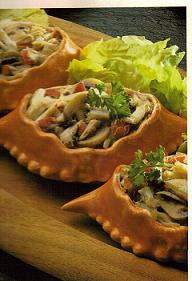 Crab With Mushrooms Recipe-photo courtesy Istock.com
This Crab With Mushrooms recipe is a easy and quick meal made with microwave instructions. Trust us, doesn't take away any flavors and offers a fast crab dinner for 4! If this wasn't good, we certainly wouldn't promote it! Do enjoy!



Ingredients:






1-Pound Crab Meat- picked over for shells


2-Pounds Mushrooms- wiped clean and sliced


6-Shallots- finely chopped


6-Garlic Cloves- finely chopped


1/3 cup-Dry Sherry


1/3 cup-Dry White Wine


1/8 tsp.-Crushed Red Pepper


1 Pound- Ripe Tomatoes- peeled,seeded and chopped


2 Tbsp.-Chopped Fresh Parsley


1 Tbsp. Virgin Olive Oil


Directions:
Combine the mushrooms, shallots, garlic, sherry, wine and crushed red pepper in a baking dish. Cover the dish tightly and microwave it on high for eight minutes, stirring once midway through the cooking time.
Add the crab meat, tomatoes, parsley and oil, and toss well. Cover the dish tightly, microwave on high for two minutes and serve immediately.
(If you prefer, you can spoon individual portions into ceramic, (like the ones shown here, on Amazon) or you can even use the natural crab shells to spoon into before serving.)
This Crab With Mushrooms recipe serves 4.
See more
crab appetizer recipe's here!
See one of our favorite
Crab meat salad recipes, here.
Check out some more of our
Crab Meat Recipes, here.
Go to our
Crab-O-Licious.com Homepage
and find more interesting information about crab..."Catch 'em! Clean 'em! Cook 'em! Eat 'em!"