Crab Zucchini Pie
by Crab-O-Licious.com
(Pacific Northwest)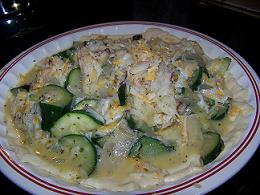 Crab Zucchini Pie from Crab-O-Licious.com
If you're kids love pizza, they'll love this Crab Zucchini Pie! You can hardly tell you're eating zucchini it tastes so much like pizza. This Crab-O-Licious original recipe is great with any type of lump crab meat or canned crab meat. So, yes, we do create our own recipes as well.

Try it out and let us know what you think!


Ingredients:






1 1/2 Cups-Crab Meat


4 Cups-Zucchini-sliced


1 Cup-Onion-sliced and chopped


1/4-1/2 Cup-Margarine


1/2 teaspoon-Salt


1/2 teaspoon-Pepper


2 Tablespoons-Parsley flakes


1/4 teaspoon each-Garlic Powder, Oregano, Basil


4 Ounces each-Mozzarella and Cheddar Cheese-shredded


2 Eggs


1-8 Ounce package-Crescent Rolls


Directions:
Preheat oven to 375 degrees.
In large skillet, melt margarine over medium-low heat. Add zucchini, onion, salt, pepper, parsley flakes, garlic powder, oregano and basil; saute till tender.
In medium sized mixing bowl, add the egg and beat lightly. Add the mozzarella and cheddar cheeses and blend well. Add crab meat and set aside.
When done sauteing, add to the egg and cheese mixture and fold together well.
Spray a pie dish with cooking spray. Pat in the crescent rolls and add the crab and zucchini mixture.
Bake at 375 degrees for 18-20 minutes.
Serve this Crab Zucchini Pie recipe while it's good and hot! Serves 4.
See more
crab appetizer recipe's here!
See one of our favorite
Crab meat salad recipes, here.
Check out some more of our
Crab Meat Recipes, here.
Go to our
Crab-O-Licious.com Homepage
and find more interesting information about crab..."Catch 'em! Clean 'em! Cook 'em! Eat 'em!"