Easy Crab Cake Recipe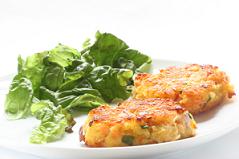 Everyone wants an easy crab cake recipe, here's one "Louisiana-style!" This is one of our all time favorite, on-the-go crab recipes. If you are in a hurry and don't have a lot of time for slicing and dicing this recipe is for you.
One reason why we call this recipe "easy" is because it  doesn't involved a lot of ingredients nor a lot of chopping and dicing!
 This crab cake recipe tastes wonderful with imitation crab meat as well. So, whatever source of crab meat you have on hand will be fine!
 According to our directions, you can also broil these crab cake's, we provide the directions below.
 Enjoy!
Ingredients:
1-Pound of cooked Crab Meat, Imitation Crab Meat or 3-6 ounce cans crab meat
1-Package Zatarain's Crab Cake Mix
2-green onions, diced
1/4 Mayonnaise (low-fat is good, too)
1-Large Egg
1/2 Water
In large mixing bowl, mix all the above ingredients together. Chill in refrigerate for 30 minutes.
To Fry In a large, deep frying pan, pour 1/4 of the oil into pan and heat on medium high. Carefully add the crab cakes to the fry pan and fry till golden brown on each side, approximately 2 minutes.
Makes 10-12 easy crab cakes.
To Broil After the crab cakes have chilled and the patties are made, place to crab patties on a non-stick cooking sheet. Place the cooking sheet in oven on top rack, 3-4 inches from broiler. Broil the crab cakes for about 2 minutes on each side, till both sides are golden brown.
 Always keep in mind that some ovens may run a bit hotter due to the altitude you may live in, so, if at all possible, turn your oven light on to keep an eye on the crab cakes. When broiling crab cakes it is always best to time them by eye-sight and not by minutes!
Makes 10-12 crab cakes.
Check out our crab dip recipes to enhance these easy crab cakes, too!
Back to the top of Easy Crab Cake Recipe
Go back to the Best Crab Cakes Recipes
Check out more crab-lovin' stuff on Crab-O-Licious.com