Imitation Crab Meat Sandwich
by Crab-O-Licious
(USA)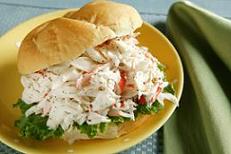 Imitation Crab Meat Sandwich-courtesy-Istock.com
This is a wonderful, tasty, and filling imitation crab meat sandwich. If you have real crab meat to use, that's fine to use as well, too. We know a lot of people search for this classic crab sandwich, so...here it is in all its glory! Enjoy!



Ingredients:





8 Ounces-Imitation Crab Meat-flaked


2 Tablespoons-Mayonnaise


2 Tablespoons-Sour Cream


2 Tablespoons-Green Onion-chopped


1 Tablespoon-Dill


2 Teaspoons-Lemon Juice


3 Tablespoons-Butter-softened


1/8 Teaspoon-Cayenne Pepper


4-English Muffins-split


4-Slices Swiss Cheese


Directions:
Preheat broiler.
In medium-sized mixing bowl, mix crab meat, mayo, sour cream, green onion, dill and lemon juice well, set aside.
Spread butter over the English muffin halves, buttered side down, on a baking sheet.
Top with cheese.
Broil 4 to 5 inches from the heat for 1 to 2 minutes or until the cheese starts to melt.
Spoon the crab mixture on top of cheese-topped English muffins evenly on each halve. Top with remaining halves, with the buttered sides up.
Heat a large skillet, or griddle, over medium heat. Add the sandwiches and cook another 5 or 6 minutes or until each side is golden brown, turning only once.
Serves 4 imitation crab meat sandwiches, or cut each into fourths, for 16 crab meat appetizers.
Did you try some of our
Crab Soup Recipes?
They'll keep warm from the inside out!
Check out some more of our
Crab Meat Recipes, here.
Go to our
Crab-O-Licious.com Homepage
and find more interesting information about crab..."Catch 'em! Clean 'em! Cook 'em! Eat 'em!"