Linguine with Crab (Linguini al Granchio)
by Paul
(London)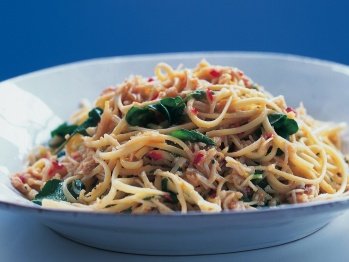 Linguine with Crab-Courtesy-Pauls Cooking.com
Doesn't this Linguine with Crab look delightful? Not only does it look compellingly good, it's taste is satisfying and quite filling! We wouldn't change a thing on this recipe.

I love the way they measure things over in London..."Ya just throw in a handful!" Don't ever let a recipe like this with metric measurements sway you from trying a great recipe! Those people know how to cook up some good grub! You can always bookmark http://curezone.com/conversions.asp for conversions of measurements.

If you try and like this Crab Linguine recipe, do visit Chef Pauls website below for more dinner ideas! Thanks for sharing this with us, Paul!

Ingredients:






2 large live male crabs, 2-3 kg in weight (4-6 Pounds)


3 fresh chillies (4 if you enjoy it hot!)


2 handfuls of flat leaved parsley, finely chopped


1 handful of finely chopped coriander


juice of 4 lemons


3 garlic cloves, ground with a little sea salt


250 ml olive oil (1 Cup)


500 gr Linguine (1 Pound)


sea salt and ground black pepper


extra virgin olive oil


Directions:
In a large pot bring sufficient water to the boil and place the crabs in (you may wish to put the crabs in the freezer for some time prior to this if concerned as to the crab's welfare). Boil gently for 20 minutes, removing from the water and leave to cool.
Having removed the legs and claws, break the bodies carefully and remove the brown meat along with any juices into a bowl. Now remove the white meat from the claws and mix in the bowl.
Finely chop the chillies (seeds in for extra heat, out for a less hot version) and add to the coriander and parsley (reserve a little parsley for garnish) , lemon juice and crushed garlic. Now mix with the crab mixture and stir in the olive oil. The resulting sauce is quite wet.
Cook the linguine as per packet instructions and drain thoroughly. Immediately stir in the crab sauce, mixing well.
Serve immediately, sprinkling each serving with a little of the reserved parsley and a good glug of extra virgin olive oil and freshly ground black pepper.
Plenty of crusty bread to mop up the sauce and a very cold flinty white wine will make this a memorable starter or supper!
Enjoy!
For more dinner ideas, visit
Pauls Cooking.com
It will open into a new window.
Go back to
Crab Meat Recipes
and find some more great recipes.
Check out some of our
Crab Salad Recipes
that will go well with these!
Check out
Crab-O-Licious.com Homepage
and find more useful information about crab! "Catch 'em! Clean 'em! Cook 'em! Eat 'em!"
Ohhhh! This Linguine with Crab sounds and looks heavenly! Will have to give it a try...thanks for sharing!