Soft Shell Crab Recipe
by Crab-O-Licious
(Pacific Northwest)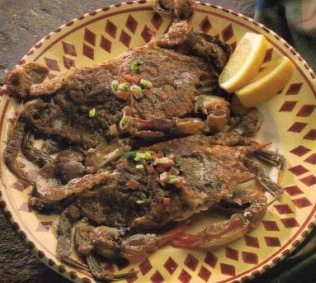 Soft Shell Crab Recipe-courtesy-Istock.com
This is a wonderful batter-dipped soft shell crab recipe made with ham and scallions and...BEER! It just doesn't get any better than this! So, here's a great recipe loaded with tons of flavor...



Ingredients:







12-Soft Shell Crabs, cleaned and trimmed


3/4 Cup-Light Beer


3/4 Cup-Flour


3 Tablespoons-Stone Ground Mustard


2 Tablespoons-Oil (Safflower or Canola)


Fresh Ground Pepper


1 Ounce-Ham, lean and diced


2-Scallions, trimmed and diced


1-Lemon, cut into 6 wedges


Directions:
Preheat the oven to 375 degrees. Lightly oil a baking sheet and set aside.
Pour the beer into a large bowl. Gradually whisk in the flour until the batter is smooth. Stir in the mustard and set aside.
Heat 1 tablespoon of the oil in a large nonstick skillet over medium-high heat. Sprinkle the crabs with pepper. Dip 6 of the crabs in the batter, shaking off any excess, and place them in the skillet.
Cook the crabs on the first side until browned for about 45 seconds. Then, transfer the crabs to the baking sheet.
Wipe the skillet clean and do the same with the remaining 6 crabs, transferring the second batch to the baking sheet when done.
Bake the crabs for 8 minutes. Remove the crabs from the oven and scatter the ham and scallions over them, then return to the oven and bake for 2 more minutes.
Serve the crabs while hot with the lemon wedges.
This soft shell crab recipe serves 6.
We found this crab meat recipe in "Fresh Ways With Fish and Shellfish"...Good cookbook!!!
Go back to
Crab Meat Recipes
and find some more great recipes.
Check out some of our
Crab Salad Recipes
that will go well with these!
Check out
Crab-O-Licious.com Homepage
and find more useful information about crab! "Catch 'em! Clean 'em! Cook 'em! Eat 'em!"