Steamed Spiced Blue Crab Recipe
by Crab-O-Licious
(Pacific Northwest)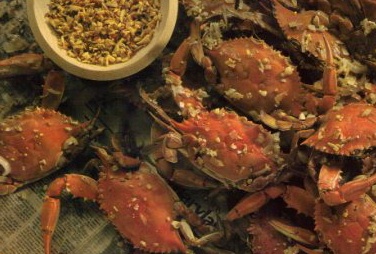 Steamed Spiced Blue Crab-courtesy-Istock.com
Get out your stock pot and a big crab steamer for this Steamed Spiced Blue Crab Recipe and enjoy the heck out of it! This is really a great crab fest. recipe!



Ingredients:







12-Live Blue Crabs


1/2 Cup-Fresh Ginger-finely chopped


1-Whole Garlic Bulb-cloves peeled and finely chopped


1 Tablespoon-Mustard Seeds


1/2 Teaspoon-Ground Allspice


2 Teaspoons-Crushed Red Pepper flakes


6-Bay Leaves-crushed


1 Tablespoon-Fennel Seeds


2-Onions-finely chopped


1 Cup-Cider Vinegar


1 Cup-Dry White Wine


Directions:
Using tongs to hold the crabs, wash each one under cold running water to wash away any sand.
Combine the ginger, garlic, mustard seeds, allspice, red pepper, bay leaves, fennel seeds, and onions in a bowl.
Set a steamer in a tall stock pot and pour in the vinegar, wine, and 2 cups of water and bring to a boil, then remove from the heat.
Put 3 crabs in the steamer and scatter a quarter of the mixture over them. Layer the remaining crabs on top, with three crabs and a quarter of the mixture in each layer. Cover the pot tightly and set it over high heat.
Steam the crabs for 20 minutes, timing them from the moment the steam first escapes the pot. At the end of the 20 minutes after steaming began, let the pot stand, still covered while the steam subsides for about 3-5 minutes.
Serve this Steamed Spiced Crab Recipe while it's hot! Serves 4.
We found this yummy gem in
Fresh Ways With Fish and Shellfish (Healthy Home Cooking Series)
Go back to
Crab Meat Recipes
and find some more great recipes.
Check out some of our
Crab Salad Recipes
that will go well with these!
Check out
Crab-O-Licious.com Homepage
and find more useful information about crab! "Catch 'em! Clean 'em! Cook 'em! Eat 'em!"