Baked Lemon Pepper Crab Cakes
With Hollandaise Sauce
Whipped up these Baked Lemon Pepper Crab Cakes last evening for a get together with our friends. Baking them makes for a quick and easy and no hassle clean up afterwards. Baking them is also easier on the heart than frying crab cakes in oil, so it was a win-win situation for me!
 For the crab meat, I used Giesha Fancy Crab Meat. Why did I pick this over other canned crab meat? Because of the quality. I've used others in a can that had the paper in it and think it's just "fair" quality, but personally, we prefer Giesha as it has actual lump crab meat in it and not just flaked like others as you can see below...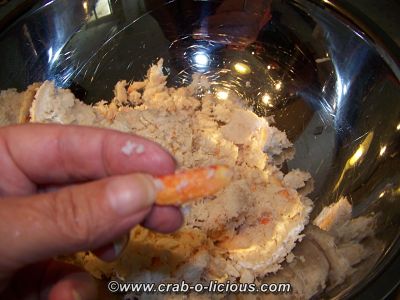 For the Hollandaise Sauce, I got lazy! Instead of making homemade sauce, I used 2-Packages Knorr's Hollandaise Sauce, or, if you want to make your own, we have the recipe..
here.
It's the second one down. It will open into a new window so you don't loose this page! Either way if fine! The important part is the crab cakes, which I put into baking cups....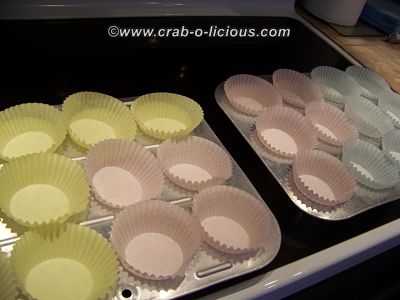 This way they all bake pretty evenly. Guests and friends can enjoy them easily and the clean up is next to nothing!

Baked Lemon Pepper Crab Cakes Recipe 
Ingredients:
5 Cans-Giesha Fancy Crab Meat

2-3 Tablespoons-Chives-chopped

1/2 teaspoon-cracked Black Pepper

2-Eggs, beaten

1-slice-Whole Wheat Bread-crumbed

1/2 Cup-Celery-diced

1/2 Cup-Mayo

2 Tablespoons-Passion Fruit Wasabi Mustard

1 1/2 Cups-Lemon Pepper Panko Crumbs-set aside 1 cup

Dill Weed-optional

Other needs:
Note: that we used a specialty mustard. You can only get it from a lady in Hawaii! She does ship and it's great tasting mustard; awesome for deviled eggs (Crabby Deviled Eggs), but you can use a stoneground mustard or your favorite. It's really the lemon pepper that makes these crab cakes great!

Directions: 
Mix all the ingredients together, but only 1/2 cup of the panko crumbs. Set aside the remaining 1 cup. Mix well, cover, and chill for at least 1-2 hours.
Meanwhile, take 2 muffin pans and line them with the baking cups.
Take out the chilled crab cake mixture, and, using a tablespoon, spoon out a measure of the crab meat mixture and round it out with your fingers and set it into the panko crumbs. Coat it real well with the crumbs, then, put it into the baking cups and pat them down lightly.
You only want the baking cup about half full; would be a good measure to start with. If you fill them, you may not get them cooked all the way through before they start to burn on the top.
If you get all 24 filled and have some crab meat mixture leftover, just add it to some that may seem a little smaller so they all look pretty evenly filled.
Put them in the oven at 375 degrees and bake for 25 minutes.

While baking the crab cakes, this is a good time to make the Knorrs Hollandaise Sauce. Make according to directions.

Stir often!

When the crab cakes are done, serve with the Hollandaise sauce and sprinkle a tiny bit of dill weed on top if you choose...Enjoy!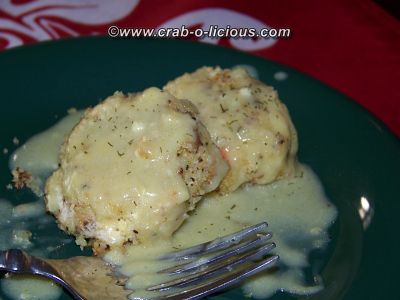 Good thing I tested these Baked Lemon Pepper Crab Cakes out before I shared them with friends last evening. You know, just to make sure they were good. They were the most complimented food there was last night and there was absolutely no leftovers!
Back to the top of Baked Lemon Pepper Crab Cakes

Check out some more of our crab cake recipes
Find a new Crab Meat Recipe
Go to Homepage