Blue Crab Cakes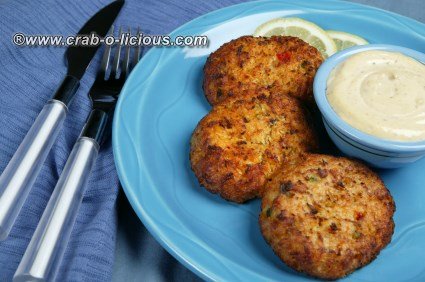 To make this Blue Crab Cakes recipe, use only fresh crab meat, not pasteurized crab meat for the best and freshest results. The cooking process for this crab species is the same as for the Dungeness Crab, however, the results will not be the same as having the distinct blue crab flavor. However, with this crab cake recipe using Blue Crab meat these crab cakes will be chocked-full of delicious flavor and are absolutely worthy of being in the best crab cakes recipes category, if we don't say ourselves! Try 'em! Let us know how you like 'em!
Note: Only omit or add other ingredients at your own disgression!
Ingredients:

1/4 Cup-Mayonnaise
1/2 Cup-Pasteurized Eggs
1/2 Tablespoon-Old Bay seasoning
1/2 Tablespoon-Ground Black Pepper
1/2 Tablespoon-Dry Mustard
1/2 Teaspoon-Salt
1 Teaspoon-Worcestershire sauce
1/2 Loaf-White Bread-crusts removed-diced
2 Pounds-Blue Crab meat
3 Tablespoons-Fresh Parsley-chopped
Combine the mayo, eggs, Old Bay seasoning, pepper, mustard, salt and Worcestershire sauce in a small mixing bowl, blend well.
Mix the bread, crab meat and parsley in a separate medium sized bowl. Gently fold in the sauce into the crab meat mixture. Careful not to break up the lump crab meat. Chill for 2 hours before forming the crab cakes, so that the bread will absorb the liquid. Once chilled, portion crab mixture into 4-ounce cakes. Chill again before cooking about 30 minutes to an hour wil do.
These cakes can be deep-fried, pan-fried or lightly drizzled with oil or cooking spray and baked in the oven at 400 degrees.
If deep frying, fry until the crab cakes are a deep golden brown. If pan-frying, fry for 3 to 4 minutes on each side till they are a deep golden brown.
Serve with your favorite crab dip recipe.
This Blue Crab Cakes Recipe serves 6, making 12 crab cakes.
We found this delicious delight in McCormick and Schmick's "Seafood Restaurant" Cookbook. You can find it over to the upper right column on this page...
Do check out our Best Crab Cakes Recipes and find more recipes like this, and, if you have a great crab cake recipe that you believe is the BEST and would love to share, please do!
Go to Crab-O-Licious.com Homepage
Jump back up to the top of Blue Crab Cakes

---