Cajun Crab Cake Recipe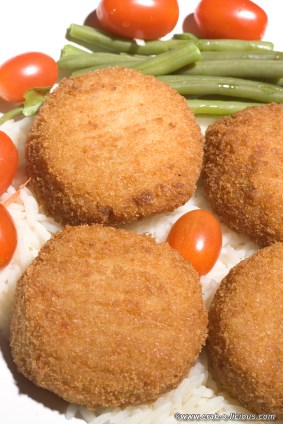 This baked cajun crab cake recipe is one of my favorite "comfort foods!" Nobody ever said comfort food can't be baked. And noone has ever said that because it is baked it can not be cajun! To the contrary on both!
If you have a taste for cajun, but you don't like fried crab cakes, this cajun crab cake is a must try! This is a baked crab cake recipe and one of our "Crab-O-licious" favorites!

Ingredients:
1 Pound-Cooked Crab Meat (3-6 ounce cans)

2 Large Egg Whites-beaten
 
1 Large Celery Stalk-finely chopped

1 Small Red Pepper-De-seeded, cleaned and finely
chopped
1/2 Medium Size Onion-finely chopped

2 Teaspoons Minced Garlic

1/2 Teaspoon-Cayenne Pepper

1 Teaspoon Hot Mustard

1/2 Teaspoon-Paprika

1/2 Cup-Bread Crumbs
Preheat the oven to 350F. Lightly coat a baking sheet (or you can use a non-stick) with cooking spray or brush lightly with Olive Oil and set aside.
Combine all the above ingredients, except for the bread crumbs, together in a large mixing bowl. Mix well. Next, add the bread crumbs and make into patties.
Next, place the patties on the baking sheet or you can even put them in a muffin pan. Place the baking sheet on a rack, half way in the oven and cook for 20 minutes. Turn cakes and bake them for an additional 15 minutes or until golden and slightly crispy on the outside.
Drizzle your favorite rouille or other  favorite crab dip and enjoy!
Makes 4 crab cakes on a baking sheet. If you use a muffin pan, you can get 8 servings.
You can easily double this recipe for more servings if needed or desired!
Go back up to the top of Cajun Crab Cake Recipe
Check out our Best Crab Cakes Recipes, here!
Find out more about Crab, go to Crab-O-Licious.com Homepage!