Coconut Crusted Crab Cakes
by Beverly
(Pacific Northwest)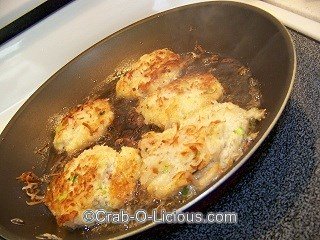 Coconut Crusted Crab Cakes
Love these Coconut Crusted Crab Cakes! I honestly don't care much for coconut at all!
I drummed up this recipe (an "aha" moment) after eating coconut shrimp one day at a restaurant.
If it works well with shrimp, why not give this a try with crab?
Since birth, I have hated coconut, but when using it
as a crust, it is really absolutely delicious! So, without further
ado, do give these a try, even if you normally hate coconut, but like
Coconut crusted shrimp!
Also, because I believe "less is more" is a good approach for making these cakes, there is a total of only 7 ingredients to makes these.
My reasoning was that crab is pretty sweet anyway and with sweet coconut, the flavors will blend real well...

Ingredients:

4-Cans Crab Meat, or 1- Pound Fresh Crab Meat
14 oz. Bag of Sweet, Coconut Flakes
1 Egg
1 Celery Stalk-diced
3 Green Onions-minced
1/4 Cup-Mayo
Tablespoon-Stone Ground Mustard
Cooking or Olive Oil for frying the crab cakes

Blend the mustard, mayo, onions, celery, and egg. Fold
the crab meat in with 1/2 cup of the coconut flakes.
Add more flakes to hold as you are using the coconut flakes
instead of bread crumbs or crackers to hold the cakes
together.
In a side dish, add the rest of the coconut. Make the crab
cakes and pat them into a patty and cover them in the
coconut flakes.