Crab Cakes Recipes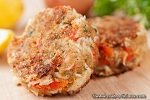 The recipe for success when it comes to crab cakes recipes is pretty simple...it's all about the crab! Any other ingredients, such as bread crumbs, should simply help hold the cakes together or offer the slightest hint of color or flavor contrast, is all icing on the cake!
For someone's preferred taste, ingredients such as bell pepper can be far too overpowering in flavor to include in crab cakes. Other's may like celery instead of bell peppers, while other's may like both. You may prefer the mellow flavors of green onion, instead of red or yellow onion. Other's may like green bell pepper's instead of celery that enhance's the flavors with the crab, but don't take away from the sweetness of the crab.
The spice's you choose are really just that...your choice. Some may like spice with a kick, while other's may like no spice at all. Experimenting with the cakes to make them just the way you like them is totally permissible. That's how good chef's go about finding the best dishes, by experimenting. Same way to find YOUR favorite crab cakes!
So, if your looking for new recipe, simply, keep scrolling down below and find a new one to try. We keep adding more and more recipes all the time. If there are certain ingredients that aren't too pleasing for your own taste buds, simply omit the offending ingredient and add one that you would prefer.
If you not sure "how" exactly to make them, check out our How To Make Crab Cakes page and learn how! It's ok! We all have had to learn at some point. Us, by trial and error!  We will even wait here for you!
Back already? Okay! Let's find some really good recipes to start out with...
Share Your Favorite Crab Cakes Recipe
Do you have a favorite crab cakes recipe you would like to share? Please do! We can never have enough crab cake recipes! Others can try them and comment on your recipe, too! And you can tell us where or how you came up with the recipe as well.
You can scroll below the form to see these crab cake recipes.
What Other Visitors Have Said About Your Crab Cakes
Click below to see contributions from other visitors to this page...

Find some "Crab-O-Licious" crab dip recipes and sauces, here, to enhance your crab cakes!
Back to Best Crab Cake Recipes
Go to Crab-O-Licious.com Homepage
Go back up to the top of Crab Cakes Recipes