Crab, Clam, and Corn Chowder
This Crab, Clam, and Corn Chowder will surely warm you up from  the inside out! It's creamy, it's rich and oh! so hearty! I love cooking soups and chowders in the fall and winter months! There truly is nothing better than curling up with a hearty bowl of chowder in front of a nice warm fire to keep you warm. Hope you like this....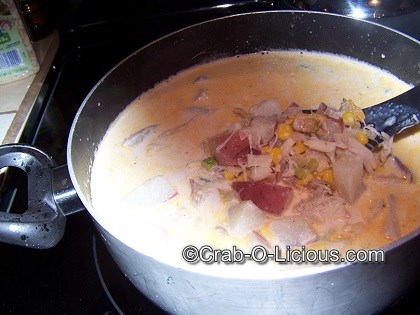 Ingredients:
1 Pound-Crab Meat, thawed, drained, picked over



2 Cans-Clams (I used 1 can of whole clams and 1 can of chopped. You can certainly use what you like best.

2 Tablespoons-Butter

2-Large Celery Stalks, chopped

2-Slices of Onion, chopped

1-Tablespoon- Old Bay Seasoning

2 Cups-Fish Stock

5-7 Medium-Red Potatoes

1/2 Cup-Dry Sherry

1 Qt.-Heavy Cream

1 Can-Corn, drained

2-3 Tablespoons-Corn Starch

Directions:
First, wash the potatoes, cut them into small chunks and boil until they are half done. I left the skin on, you don't "have to." Then, use a fork to poke them after they have been boiling to make sure you don't cook them all the way. The reason I did this was to simmer the whole pot for a couple hours to let the flavors blend well and into the potatoes. Trust me, it's good! However, you don't have to do this and go ahead and cook them all the way and continue on with the directions, should still be quite tasty. You can even put this all in crock pot and cook it very slowly, too, if you prefer. Nothing written in stone here, this is just what I did and turned out pretty darn good!
After cooking the spuds, drain them and set aside.
Next, on medium heat, put the butter into a Dutch oven sized pan to melt and add the celery and onion. When they start getting soft, add the Old Bay Seasoning and blend well.
Next, add the fish stock, dry sherry and heavy cream to the mix and stir well. Add the clams and crab meat and corn and let simmer for a couple hours.
When you're ready, mix some corn starch and water in small dish and when its boiling, pour the corn starch in and stir to desired thickness.
Serve with warm sour dough rolls and butter and enjoy!
This Crab, Clam and Corn Chowder makes a LOT! 8-10 hearty servings for sure...Again...Enjoy!
Crab Soups and Chowders       Crab Salads      Crab Fishing News      Crab-O-Licious Homepage