DIY Crab Fest For Two Better than Joe's Crab Shack
by Beverly
(Pacific Northwest)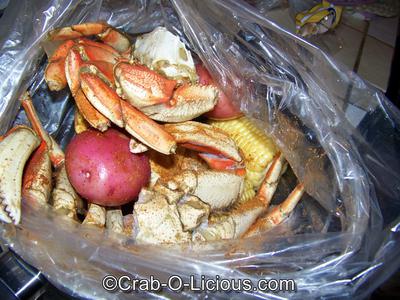 Crab Fest for Two
Here's a great do it yourself crab fest at home, quick and easy! We don't have a Joe's Crab Shack around here, anyway, so doing this myself for just my husband and I seemed to be a brilliant idea. Hope this encourages some of you to try it yourselves, you'll be glad you did and won't fret that there isn't a Joe's close by anymore!

All you need is:

1-Turkey cooking bag, lined into a Dutch oven
4-Red potatoes
2-Ears of Corn
2 Dungeness Crabs or whatever type of crab you can get, Alaskan King Crab or Snow Crab will do as well. Or, 4 clusters of Dungeness Crab Legs
1-Stick of Butter
Old Bay Seasoning
1/2 Cup-Water


Preheat your oven at 350 degrees.
Meanwhile, shuck the ears of corn, wash them and break them in halves.
Clean the potatoes and add them and the corn into the cooking bag.
Add the crab legs and still of butter, the 1/2 cup of water and sprinkle with Old Bay Seasoning.
Tie the top of the bag and put in the oven and cook for about an hour/hour and 15 minutes; however long until the potatoes are done to your liking.
While cooking, take it out around every 15 minutes and shuffle things around a little bit. Be careful! This will spread the butter and spices around as they cook.
When the potatoes are done to your satisfaction, it's ready!
Enjoy your own little Crab Fest for two! You can always double or triple this if you plan on having more people over. Depending on how many, you may want to use 2 turkey cooking bags and put them into a bigger, stronger cooking pan to cook and let them cook at little longer, depending on the potatoes!
Enjoy!
Join in and write your own page! It's easy to do. How? Simply click here to return to Crab Leg Recipes.