Dungeness Crab Cakes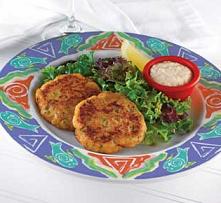 We found this delightful Dungeness Crab Cakes recipe in McCormick and Schmick's Seafood Restaurant Cookbook. They have it as Dungeness Crab and Shrimp Cakes, however, we are crazy for crab and have omitted the tiny bay shrimp. You can put the shrimp back in, (3/4 pounds each crab and shrimp), if you like. We feel this recipe is worthy to be called one of the Best Crab Cakes Recipes, however, we'll let you decide!  
Ingredients:
1 1/2 Pounds-Dungeness Crab meat
3 Tablespoons-Celery-chopped
3 Tablespoons-Onion-chopped
3 Tablespoons-Mayonnaise
1 Egg-beaten
Pinch-Cayenne Pepper
Pinch Dry Mustard
2 Tablespoons-Dijon Mustard
1 Tablespoon-Worcestershire Sauce
Pinch Salt
Pinch Ground Black Pepper
Pinch Old Bay Seasoning
1/2 Cup-Panko Bread Crumbs
3 Ounces-Lemon Juice
Vegetable Oil-for frying
Parsley-for garnish (optional)
Make sure that the crab and shrimp (if using) are drained and dry of excess water.
Grind the celery and onion in food processor and move to large bowl.
Add the shrimp, (if using), mayonnaise, egg, cayenne, both mustard's, Worcestershire sauce, salt, pepper and Old Bay seasoning, the lemon juice and 3/4's of the bread crumbs and blend well. Fold in the crab meat.
Form into 4 ounce patties. Place on a cookie sheet-type pan, and sprinkle with the remaining bread crumbs. Chill for no more than 2 to 3 hours.
These cakes can be deep-fried, pan-fried or lightly drizzled with oil and baked in the oven at 400 degrees.
Serve with your favorite tartar sauce or crab dip recipe.
If deep frying, fry until cakes are a deep golden brown; if pan frying, fry 3 to 4 minutes per side, until the cakes are a deep golden brown.
Makes about 12 Crab Cakes or 6 servings.
Go back to the Best Crab Cakes Recipes.
Go to Crab-O-Licious.com Homepage
Go back up to the top of Dungeness Crab Cakes