Grilled King Crab Legs
by Crab-O-Licious.com
(Pacific Northwest)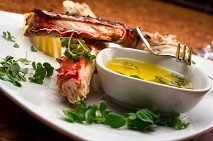 Grilled King Crab Legs
In good or bad weather, Grilled King Crab Legs are a hit all year around at our house! Grilling crab legs isn't a fad, but a traditional way of life for Crab-Lover's all around the coasts of the U.S. It just helps if the weather does decide to cooperate!

The first thing you want to do if you are set out to have grilled king crab legs (or Dungeness or Snow Crab Legs, as they work just as well) is to thaw them out completely, first, if they are frozen. Do this, preferable, to room temperature and NOT in a microwave! If you put frozen king crab legs on a grill, the thawing process over the grill seems to interfere with the grilling of the flavors and it's just best to have them thawed, first and foremost.

Next, you want to take your crab scissors and cut through the big section of the king crab leg. This is so to heat the meat through thoroughly and evenly. You can even be creative and add some minced garlic and some sprigs of herbs on the legs, but this is all up to you! Adding a splash of garlic butter or raw butter or a slight spread of your favorite dipping sauce to the meat will aid in your favorite flavors! Just make sure you cut that bigger area of the legs before adding it to the grill.

Next, you want to heat your grill, preferably a gas grill, so you can control the heat. Remember, if you bought these king crab legs you're looking to grill, they were already boiled, so the meat is basically "done" and ready to eat. You're just heating them on the grill. Also, even though the king crab legs are big bumpy, they are not really very thick. You don't need to have your grilling heat on high.
Turn the heat down on low so they cook slowly, surely, and won't over-cook the crab legs. If you're in a hurry and want to get the job done fast, please, don't heat them on high! You'll char them and you're meat will be over-cooked. So, do cook them on low heat.

The time for grilled king crab legs to be done is around 5-8 minutes. It's not too long of a process. You'll want to set them on the grill and turn them half way through so they are grilled all the way around.

When you're done grilling, set out your clarified butter and favorite dipping sauces and have at it! Enjoy!

See our Steamed King Crab Legs with Garlic recipe!

Try out our Recipe for crab legs with 3 dipping sauces, here.

Find more dipping sauces on our Crab Legs Recipes page

Check out Crab-O-Licious.com Homepage Because it's all about the crab! "Catch em'! Clean 'em! Cook 'em! Eat 'em!"