Recipe For Crab Legs With 3 Dipping Sauces

(Pacific Northwest)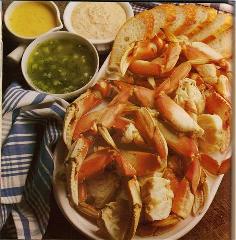 Crab Legs Recipe With Dips
Nothing like crackin' a bunch of Dungeness Crab legs with these 3 dipping sauces to choose from...

Tangerine Butter, Dill Green Onion Vinaigrette, and Remoulade Sauce.
King Crab legs, Snow, Blue or Stone Crabs can be used as well.



Tangerine Butter:


3/4 Cup-Unsalted Butter


3 Tablespoons-Fresh Tangerine Juice


l/2 Teaspoon-Grated Tangerine Zest


1 Tablespoon-Dijon Mustard


Salt and Freshly Ground Pepper


Directions:
To make the tangerine butter, in a small sauce pan over medium heat, melt the butter. Stir in the tangerine juice and zest, mustard and salt and pepper to taste. Immediately remove from the heat and let stand for 1 hour.
Dill Green Onion Vinaigrette:


3-4 Tablespoons-Fresh Lemon Juice


1-Garlic Clove-minced


l/2 Cup-Extra-Virgin Olive oil


Salt and Freshly Ground Pepper


2 Tablespoons-Chopped Fresh Dill


1 Cup-Thinly Sliced Green Onions


Directions:
To make the vinaigrette, in a small bowl, whisk together the lemon juice, garlic, olive oil and salt and pepper to taste. Stir in the dill and green onions, mixing well. Set aside.
Remoulade Sauce:


1 Cup-Mayonnaise


3 Tablespoons-Dijon Mustard


2-3 Tablespoons-White Wine Vinegar


1 Tablespoon-Paprika


2 Tablespoons-Prepared Horseradish


1 Clove Garlice-finely chopped


1/3 Cup-Green Onion-finely chopped


2 Tablespoons-Fresh Parsley-finely chopped


2 Tablespoons-Ketchup or Tomato Sauce


Salt and Pepper-freshly ground


Directions:
In a small bowl, make the remoulade sauce. Cover and refrigerate until serving.
To Cook This Recipe For Crab Legs With 3 Dipping Sauces:
You will need:
1-Large Stock Pot (if crabs haven't been cooked) or large steamer if the crabs have been previously cooked.
4 Quarts of Water...
In a stockpot, bring the 4 quarts of water to a boil. If using water, add 2 tablespoons salt once it boils. Add the crabs, immersing completely, and boil until cooked, about 12 minutes. Using tongs, transfer to a plate to cool slightly.
Working with 1 crab at a time, place the crab on its back. Pull off the tail section and discard; the intestinal vein will pull free at the same time.
Next, turn the crab over and, grasping the large top shell firmly, lift it, snap it off and discard. Remove the white spongy gills and any other organs from the body and discard.
Using a large, heavy knife, cut the body in half from head to tail. Cut each half crosswise into thirds. Using a mallet, crack the claws and legs. If the crabs have cooled, warm them on a steamer rack over boiling water for 5-7 minutes.
To serve, reheat the tangerine butter over medium heat, whisking constantly. Pour into a small bowl. Arrange the crab on a platter. Serve immediately with the sauces.
This crab legs recipe with 3 dipping sauces serves 6.
We found this lovely, delicious crab legs recipe with dips out of one of our favorite seafood cookbooks called "Shellfish" from Williams-Sonoma Kitchen Library with photo included.
See our
Steamed King Crab Legs with Garlic
recipe!
Try out our
Recipe for crab legs with 3 dipping sauces, here.
Find more dipping sauces on our
Crab Legs Recipes page
Check out
Crab-O-Licious.com Homepage