Imitation Crab Salad Recipe
This imitation crab salad recipe is easy to make and is a great foundation for various other dish uses. You can use canned crab meat, too, if you prefer. Leave out the pasta in this crab salad recipe and you can make a "Crab-O-Licious" crab salad sandwich, see photo below!
 Either way, both are very good! Give it a try!
Ingredients:

1 Cup-Pasta(Shells or Macaroni)
1 Pound-Imitation Crab Meat-flaked
1/2 Cup each- Yellow and Red Bell Peppers
3 Celery Stalks-sliced
1/2 Cup- Green Onion-finely chopped
1/4 Cup-Slice Black Olives (optional)
1/2 Cup-Mayonnaise or Salad Dressing
2 Tablespoons-Sour Cream
1/2 Teaspoon-Dill Weed
Dash-Poppy Seed-optional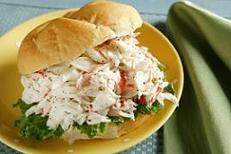 Boil pasta in medium sized pan till done; firm, not over-cooked.
Drain the water from the pasta over sink.
Run cold water over pasta, set aside.
Mix remaining ingredients in medium sized bowl.
Add pasta to mixture.
Mix well.
Chill overnight or for at least 6 hours before serving.

This recipe makes 4-6 servings with the pasta or 4 imitation crab salad sandwiches. You can easily double the recipe if you are having guests.
This crab salad recipe is great as a sandwich. Simply spread this recipe onto sour dough bread or on dark rye! (Just don't forget to omit the pasta!!!) Or try this wonderful Crab Salad Sandwich that is absolutely delicious with imitation crab meat. As a matter of fact, it's best with imitation crab meat!
See more crab salad recipes, here, that are best with fresh or canned crab meat, but can be used with imitation crab meat as well.
Go to Crab-O-Licious.com Homepage
Go back up to the top of Imitation Crab Salad Recipe