Louisiana Cajun Crab Cakes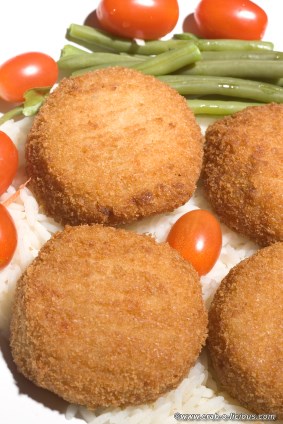 We got this Louisiana Cajun Crab Cakes Recipe from our friends and fine folk over at Cajun Cooking TV.
Ingredients:
1/2 Pound-Fresh White Crab Meat
2 cups-Cajun Trinity (onions, bell pepper and celery)-finely chopped
1-teaspoon-Garlic-minced
1-2 Tablespoons-Butter
1 Tablespoon-Oil Olive
1 Tablespoon-Italian Seasoning
1 Teaspoon-Tony's Creole Seasoning
2 Cups-Bread Crumbs
3/4 Cup-Mayonnaise
1 Teaspoon-Creole Mustard
1-Egg
1/2-Cup Milk
Canola Oil-for frying
Lemon
Saute' the "Cajun Trinity" in butter and olive oil until well done.
Add minced garlic, Italian seasoning, and Tony's creole seasoning. Move to a mixing bowl and stir in 1 cup bread crumbs. Add mayo and creole mustard. Mix well.
Fold in crabmeat, blending well. Add more mayo if too dry. The mixture should be sticky enough to form patties.
Divide the mixture evenly to form 4-5 patties.
Place on a clean platter and chill at least 30 minutes to an hour.
Make an egg wash by whisking 1 egg and 1/2 cup milk in a small bowl. Add in a dash of lemon juice if you like.
Put the bread crumbs in another bowl.
In a deep skillet, pour in enough oil to cover the bottom of the pan.
Heat on medium heat.
Take the crab patties out of the refrigerator.
Dip each patty through the egg wash, then, dip through the bread crumbs coating the outside of the patty completely.
Place on a clean platter.
Carefully place the patties in the skillet and fry for 2-3 minutes. Flip each crab cake over and fry another 2-3 minutes. Until golden brown.
Remove the crab cakes onto several layers of paper towels to remove the excess oil.
This Louisiana Cajun Crab Cakes Recipe serves 4.
For this and other great, authentic cajun recipes, check out Cajun Cooking TV. They will give you all the in's and out's of authentic Cajun Cooking.
Need a visual for making crab cakes? Watch it on our How To Make Crab Cakes page!
Find more of the world's best crab cakes recipes, here.
Go to Crab-O-Licious Homepage.
Check out another Louisiana Crab Cakes Recipe, here!
Go back up to the top of Louisiana Cajun Crab Cakes