Louisiana Crab Cakes Recipe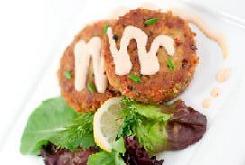 This Louisiana crab cakes recipe is one of our families absolute favorite! Why? Well, this recipe is an easy crab cake recipe. It doesn't take much time or fuss to get together and the cajun flavor of these crab cakes are just simply delicious! Even takes good with imitation crab meat.
Ingredients:
1-Pound Crab
1/2-Small Red Pepper-finely chopped
1/4 Cup-Onion-finely chopped or minced onion
2-Large Eggs-beaten
1/2 teaspoon-Spicey Hot Red Pepper Sauce (Tobasco)
1 Cup-Crackers (Ritz)- finely crushed
2 tablespoons-Hot Mustard (Jack Daniels/Grey Poupon)
1/2 Cup-Ranch Dressing
1/4 Cup-Canola Oil
Set aside half of the cracker crumbs and the oil. Next, mix the crab meat, peppers, onions, eggs, pepper sauce and 1/2 cup of the cracker crumbs in a medium sized mixing dish. Cover and refrigerate for 1 hour.
Meanwhile, mix the mustard and the ranch dressing and set aside till the crab mixture is chilled.
After the mixture is chilled, shape the crab mixture into patties. Desired thickness is up to you! Then, coat the crab cakes with the remaining cracker crumbs.
Heat the canola oil in large heavy skillet on medium-high heat. Carefully add crab cakes and cook 3 to 5 minutes on each side or until golden brown on both sides. Drain the crab cakes on paper towels. Heat the mustard and ranch dressing for 15 seconds in the microwave and drizzle over the cakes!
Makes 4 Crab Cakes
If you like these crab cakes, you'll want to try Louisiana "Cajun" Crab Cakes, with a special "cajun flavor" from our friends over at Cajun Cooking TV.
See more Best Crab Cakes Recipes from all over the world! We have compiled the absolute best just for you!
Go back up to the top of Louisiana Crab Cakes Recipe
 Go to Crab-O-Licious.com Homepage...