Stone Crab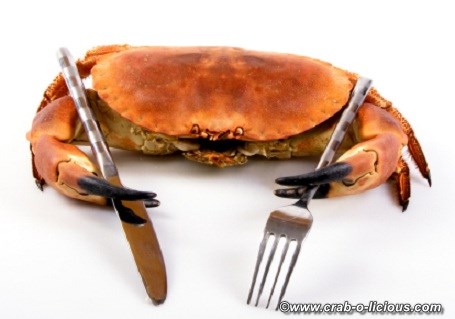 Stone Crab, like the creature we chose as our featured logo on Crab-O-Licious.com,  are found in the Atlantic Ocean, from Connecticut down into Florida, over to Texas in the Gulf of Mexico. They have even been found in Cuba and in areas of the Bahamas.

The meat of these eclectic crabs are a delicacy as it resembles the flavor of lobster meat, and only the claws are marketed. Crab fishermen release the crabs after breaking off their claws, which yield quite a bit of meat. After being released back into their waters, the stone crabs will naturally grow new claws, but not necessarily bigger claws. With this all in mind, the claws can be pretty pricey!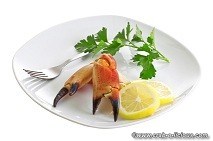 These crabs are found in bay areas and estuaries among rocks and often shallow water areas. The adult crabs dig burrows up to 12-20 inches deep.

They are usually fished near jetties, oyster reefs or other rocky areas.

The bodies are small and rarely eaten, but the claws are large and strong enough to break open an oyster's shell.

Fishing Rules and Gear
Gear:
Unlawful to use any device on the taking of stone crab that can puncture, crush, or injure the crab body
Maximum of 5 crab traps per person
Stone Crab Rules:
No females with eggs can be harvested. Hands off!
Harvested claws MUST be at least 2 3/4 inch
Open season-Oct 15th-May 15th
Bag limit-1 gallon of claws/person or 2 gallons/vessel, whichever is less
Buoys must have a legible "R" at least 2 inches high and fixed permanently to the buoy. Buoys aren't required if the trap is fished from a dock.
Trap must have harvester's name and address fixed permanently to it.
Traps must be pulled manually, not by a trap-puller. Any vessel that is rigged with a trap-puller is considered a commercial vessel and will need the appropriate license.
Traps must be pulled only during daylight hours.
A recreational license is required in most areas. As far as we can tell, only around Georgia is where you don't need a license to crab for these, but don't quote us! Always check your local Game and Fishery source. We say this because, in most areas, both claws of the crab may be harvested lawfully if they are both of legal size, except for areas off the Texas coast. So, again, do check what the local rules say in the area you want to crab in! If you need a license, do get one!
Other side notes:
Having the ability to grow back their claws, they require a huge amount of energy in the form of food. The quicker the crab obtains the energy required to molt and grow its lost claw, the sooner the renewable delicacy will have another claw to replace the missing one. Makes good sense!

Also, the claws must measure at least 2 3/4 inches in length by a straight line from the elbow to the tip of the lower immovable finger. The forearm is deemed the largest section of the claw that has both a moveable and immovable finger that is located farthest from the body of the crab. 
Sizzling Crab Claws Recipe
Go back to Types of Crab