Fast and Easy Crab Loaf Recipe
by Beverly
(Pacific Northwest)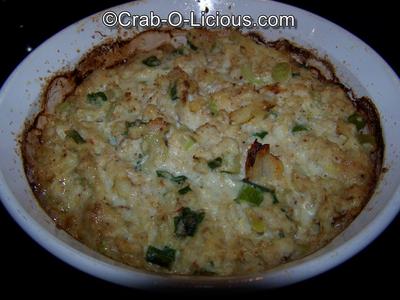 Baked Crab Loaf
Instead of making a bunch of fried crab cakes, here's a fast and easy Crab Loaf recipe you'll want to make time and time again! This is, actually, one of my husband's favorite crab dish. If you love hamburger and love making meat loaf, this is a great alternative with crab meat.

Ingredients:

1 pound of crab meat, preferably fresh Dungeness, or you can use canned crab meat, around 5-6 cans to equal to a pound

2 Large Green Onions-diced

2 Celery Stalks-diced

2 Eggs-beaten

1/4 cup-Bread Crumbs

1/4 cup-Mayo

1 big Tablespoon-Stone Ground Mustard

Cracked Black Pepper


Mix well the last 7 ingredients, then, fold in the crab meat.
Put into a cooking sprayed loaf pan. Bake in a preheated oven at 350 degrees for 45 minutes covered. Uncover and bake for 15 more minutes to get a slightly crusted top. Serve with your favorite dipping sauces that you love with your crab cakes!
Here, we used Spicy Peanut Sauce. A peanut satay sauce would be real good, too, but not so spicy and easier on those who get heart burn easy.
Add a side of corn on the cob or other veggies and/or a fruit and you have a hearty meal with this Crab Loaf!

What we love about this recipe is that the ingredients are few and easy to remember. With sweet Dungeness Crab, you don't want a lot of other ingredients to take away the sweet taste of the crab.

Enjoy!
Join in and write your own page! It's easy to do. How? Simply click here to return to Crab Cakes Recipes.